…GuySuCo being consulted to open up lands at Skeldon
During a recent outreach in Region Six (East Berbice-Corentyne), Housing and Water Minister Collin Croal disclosed that he is satisfied with the quality of houses being constructed at the new housing scheme at Williamsburg. However, with the growing demand and backlog of applications for house lots, additional lands have been sourced to extend the project.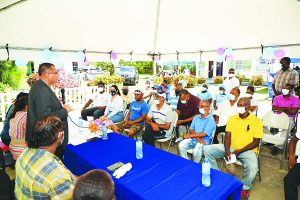 A portion of land north of the scheme has been acquired, and the infrastructural works are currently being put in place to ultimately see the construction of 59 additional houses.
Last November, contracts were signed for the construction of 100 houses at the new housing scheme at Williamsburg. Already, 30 houses have been handed over to their owners, and within another two weeks, a similar amount is expected to be handed over. The first allocation was made to young professionals on Tuesday.
These two-bedroom units measure 20 feet by 30 feet (600 square feet) and cost $5.5 million, inclusive of the cost of the land. The houses are being categorised as low-moderate.
At Ordnance Fort Lands, the new phase of that housing scheme is moving apace.
"They are at the foundation stage, and then we will have the construction of houses," Croal related.
Meanwhile, at Corriverton, house lots are being distributed at Numbers 79 and 75 villages. According to the Minister, the land is being allocated for new homeowners to construct at Number 79 Village, while, at Number 75, a new housing scheme will be established.
"You would have seen, on the macro perspective, the announcement by His Excellency the President on the new hospital here in Berbice. So, we had to reconfigure the front of the scheme, in terms of the design, to accommodate the new hospital, but the rest of the scheme remains," Croal explained.
Notwithstanding that, he said, his Ministry has been engaging the Guyana Sugar Corporation (GuySuCo) to acquire the additional land situated behind the Number 75 New Housing Scheme in order to be able to extend it.
When the PPP/C Government took office in 2020, it initiated an aggressive housing programme. To date, 1,200 homes are underway for lower-to-moderate-income families, as well as young professionals across Regions Three (Essequibo Islands-West Demerara), Four (Demerara-Mahaica), Six (East Berbice-Corentyne), and Ten (Upper Demerara-Upper Berbice).
"We have under 6000 pending applications in Region Six, and, within the next two years, we are looking to satisfy those pending applicants," Minister Croal added.
The Housing Ministry is aiming to fulfill the administration's mandate of providing 50,000 house lots by 2025. Since returning to office in August 2020, more than 13,000 new louse lots have been allocated to persons countrywide.