…says Syndicato gang protecting illegal miners
Illegal mining and logging have long been problems for the Government and the source of revenue leakages. But the new Government is clamping down on the scourge, conducting operations over the past month that resulted in illegal logs being seized and the destruction of illegal mines.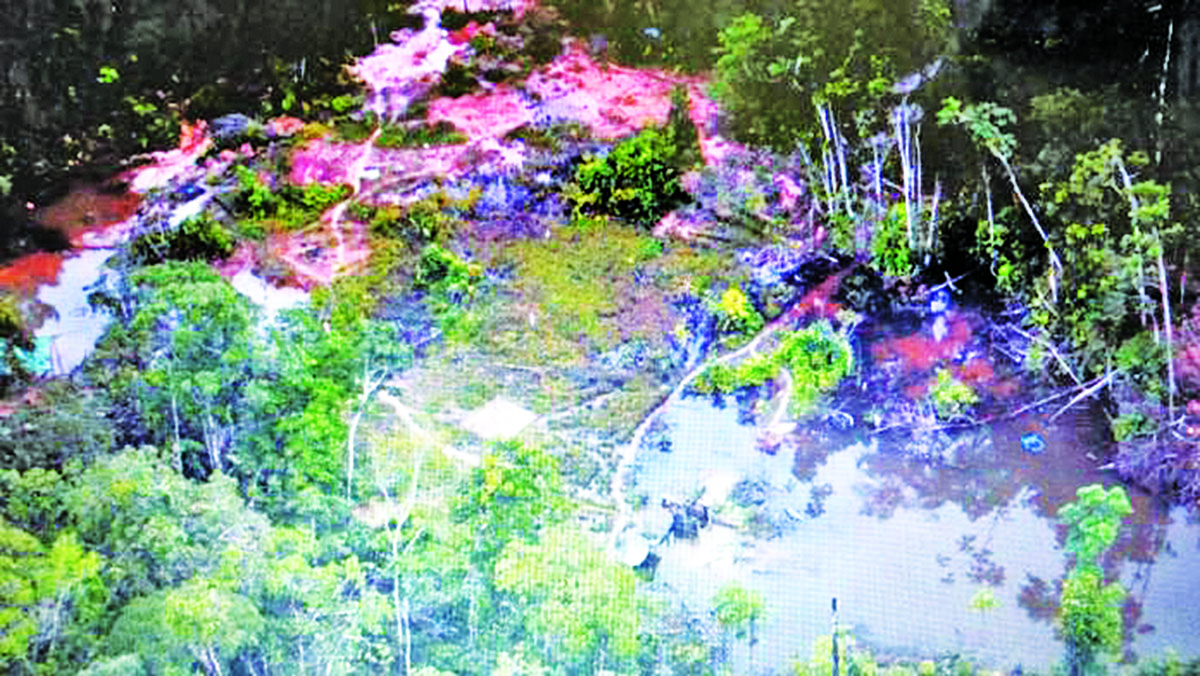 This was explained by Natural Resources Minister Vickram Bharrat during an interview with the media on Monday. Bharrat explained that when the PPP Government took office, illegal mining and logging were very prevalent.
To make matters worse, he noted that the infamous Venezuela-based Syndicato gang has been protecting these illegal operations, primarily in Region Seven (Cuyuni-Mazaruni). There have been reports that the gang extracts a "tax" from these miners, which is a percentage of their gold earnings, in exchange for this "protection." Miners who refuse to pay are quickly made uncomfortable by the heavily-armed gang.
Bharrat noted that one way they have been addressing the problem is by interagency collaboration, between the Guyana Defence Force (GDF); Prime Minister, Retired Brigadier Mark Phillips, who once headed the GDF; the Guyana Geology and Mines Commission (GGMC) and other agencies.
"Upon assuming office, what we found is that there have been a lot of illegal mining and logging as well. We've been clamping down on illegal logging as well. We've seized a number of logs in the past month. Mining is the same issue. A lot of illegal mining," Minister Bharrat explained to the media.
"There's the Syndicato gang operating in the Cuyuni area. We believe strongly that this gang is protecting illegal miners, both local and foreigners. We would have initiated with the army and Prime Minister, enforcement activity with the army, GGMC and other agencies, looking for illegal airstrips, drug trafficking and other illegal activities like Trafficking in Persons. That activity would have unearthed an illegal mine in the New River Triangle, South Guyana, which has been destroyed."
This is a reference to the recent joint operation conducted by the army, police and GGMC, which unearthed a massive tunnel mining operation in the New River Basin some 50 miles east of Masakenari, South Rupununi.
Investigators believe that the persons who were conducting mining operations may have been utilising an illegal airstrip in Brazil, located some two miles south of the Guyana-Brazil border. The New River Basin is designated a Rare Earth Mineral Reserve and as such, mining is strictly prohibited in the area.
Iwokrama
According to the Minister, the Iwokrama International Centre for Rainforest Conservation and Development has meanwhile reached out for help in combating illegal mining and logging within their protected areas. The problem, however, is that Iwokrama is cash-strapped and unable to do the necessary monitoring themselves.
When it comes to reports of Venezuelan gold being smuggled over the border into Guyana, Bharrat noted that this is being looked into. However, he noted that there is so far no evidence to substantiate the reports.
"It is a concern; we've seen the reports. And the Guyana Gold Board is currently looking at the matter. As it is now, there is no substantial evidence to point to gold coming across the border from Venezuela."
"If you ask me if there is enough evidence to say the opposite, that Guyana gold is leaving our borders and going to Brazil and Venezuela. That is happening right now, which we're trying to deal with. But the Guyana Gold Board is looking into that matter in particular. Because a number of dealers would have complained to us."
According to the Minister, it would be difficult to differentiate between gold originating in Guyana and in Venezuela. But with concerns being expressed by dealers and the Royal Canadian Mint, which refines Guyana's gold, efforts are being made to get to the bottom of the issue.
"There are complaints that the Royal Canadian Mint, as well as other buyers, there are the same reports that gold from Venezuela is infiltrating the Guyana gold. Of course, you would appreciate the fact that there is no solid way to differentiating between them, other than ensuring there is proper border control and control of mining activities."
"But the Gold Board is looking at previous declarations and other information they have on dealers. And they are satisfied that at this point, it is not true that gold is coming from Venezuela," the Minister explained. (G3)