– PM says Govt aims to bridge developmental gap between coast and hinterland regions
Prime Minister, Brigadier (Ret'd) Mark Phillips and Amerindian Affairs Minister Pauline Sukhai have distributed a whopping $161.1 million to communities in North Pakaraima.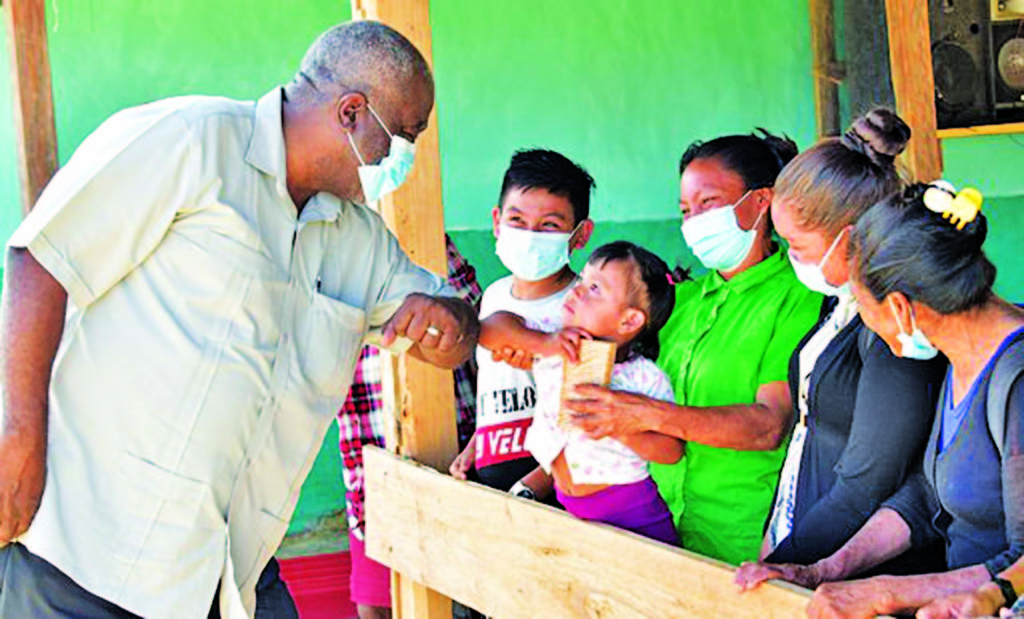 The funds will be used for capital projects in the mountainous communities and to begin the groundwork to ensure that they are prepared to benefit from fully-equipped ICT hubs.
The two senior Government officials and their team travelled to several communities on Wednesday and Thursday to hand over the funds and to outline Government's impending development programmes.
Of the total, $152 million will go towards the Investment Fund (COVID-19 Relief Grant) and the remaining $9.1 million for capital grants and assets.
The team visited Monkey Mountain in Region Eight (Potaro-Siparuni) before stopping at Paramakatoi and Kato on Wednesday.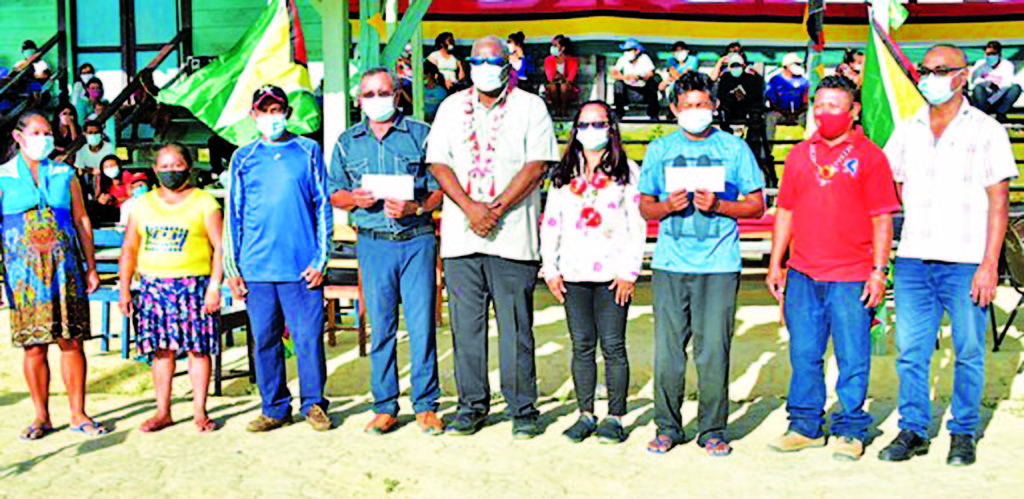 On Thursday, they travelled to Kopinang and Kurukubaru. The areas were used as central locations to deliver the funds to over a dozen communities.
Based on a report by the Department of Public Information (DPI), approximately $2 million of the investment funds will be allotted to either construct a new building for the ICT hub or towards the renovation of an existing structure in each community.
The reminding monies will be used to fund a project of the community's choice or to assist with critical transportation needs. The projects will be governed by consensus and will be transparent with the guidance of the Amerindian Affairs Ministry.
During the distribution exercise, Prime Minister Phillips assured that there were several projects earmarked for Guyana's Amerindian communities as Government aims to bridge the developmental gap between the coast and the hinterland.
He noted that there is also a development plan in place that will benefit all Guyanese.
"It is a development plan that says to the people of Guyana that notwithstanding COVID-19 and its negative effects on our population, we still have to develop as a country, we still have to support our people in their community wherever they live and ensure that they also benefit from development in Guyana."
Phillips further stated that the hinterland would not be left out of the equation and that several projects are forthcoming.
Distribution
Of the $151 million handed out for the Investment Fund, $10 million was given to Monkey Mountain, $7 million to Tuseneng Village and $5 million to Taruka Village.
On the second stop, $15 million was distributed to Paramakatoi, $10 million to Mountain Foot/Bashvale and $10 million to Bamboo Creek Village.
Another $10 million was handed over to Kato, $3 million to Red Creek and $5 million to Chuing Mouth Village.
Kopinang Village received $10 million while Maiwak CDC got $3 million.
In addition, Kurukubaru got $10 million and $3 million was given to Arsawa. Kaibarupai collected $10 million, Itabac Village $5 million, Waipa Village $10 million, Sand Hill $5 million, Katch-Cow $3 million, Kanapang $10 million, Pennak $3 million and Kamana $5 million.
In terms of capital projects, two All-Terrain Vehicles (ATVs) valued at $2 million each were handed over to Pennak and Kurukubaru.
Finally, Sand Hill received $1.4 million for the construction of a village benab (2020 Presidential Grant); Itabac collected $1.5 million for the construction of a pavilion (Capital Project), Kanapang Village received $1 million for the construction of an ICT hub and Pennak was given a cheque valued at $1.2 million for the construction of a village office.