…on course to distribute 5000 house lots, 3000 land titles
Following positive reviews and the overwhelming support for International Building Expo 2022, Housing and Water Minister Collin Croal on Sunday announced that the event will be extended for two more days.
The expo, which is being held under the theme "A New Frontier For Building a One Guyana" was slated to conclude on Sunday, but now will come to an end Tuesday.
"We are particularly pleased with the overwhelming response we've received. And the amount of persons that have been coming here. And that is why, based on what we've [seen], based on the request by the exhibitors themselves, we've decided to extend it [the expo] by two days, to Tuesday," Minister Croal explained.
He added that the exhibitors are extremely happy with the support from the public who have shown interest in their products.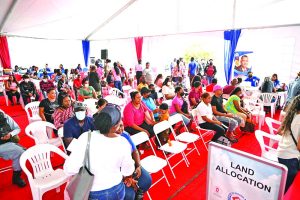 "The response from our exhibitors is that they are happy [with] the amount of visitors as well as persons who are interested [in their products] and are able to acquire as much information as possible of what this expo is about."
On Monday and Tuesday, the gates will be open from 12:00h until 23:00h and the public will have free access. "We've even gone further; the gates will be wide open. Everyone is invited to come and experience exposure. So, we're particularly pleased [with] what has occurred so far," the Minister said.
The Minister continues to encourage the public to visit the over 350 booths at the expo.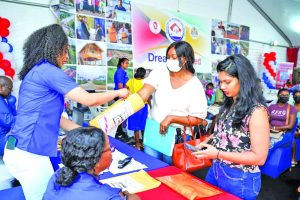 "I want to encourage all persons, especially those who have not had the opportunity to visit the expo as yet, to come and take your time – there are a lot of information to be acquired. There are over 350 booths here… to be able to experience and interact as much as possible because this is an expo like no one before," Croal added.
The expo has returned after a hiatus and is dubbed the blueprint of the future infrastructure.
It has attracted some 350 participants, of which at least 25 are foreign companies including some from the Caribbean – Suriname, St Lucia, Trinidad and Tobago, and Barbados along with others from the United States, Canada, and Ghana.
Meanwhile, Croal revealed that over the past two days, the Central Housing and Planning Authority (CH&PA) has been executing its allocation of 5000 house lots through its "Dream Realised" programme.
On Friday, more than 1000 citizens were recipients of house lots and land titles. On Saturday some 1500 applicants received lands and another 500 Land Titles/Transports were distributed.
With the extension, the "Dream Realised" will come to an end on Monday. By the end of the exercise, the agency aims to distribute some 5000 house lots and 3000 land titles.
For the first two days, house lots were allocated in several areas including Non-Pareil and Enterprise on the East Coast of Demerara, and two blocks in Diamond and Grove on the East Bank of Demerara.
On Sunday, persons were allocated land in Region Three (Essequibo Islands-West Demerara), specifically in Cornelia Ida (CI) and Stewartville.
"We have two days left and it is expected to have at least close to five thousand," he said.
The Minister explained that there will be much more allocation exercises throughout the year as the Ministry is striving to distribute some 14,000 house lots by the end of the year.
"Much more allocation exercises that will happen throughout the course of this year. Throughout the course of our tenure, because overall for this year we want to achieve 14,000 allocations in this calendar year 2022," he said.
This is in keeping with the People's Progressive Party/Civic (PPP/C) manifesto promise of delivering 50,000 house lots to Guyanese by 2025.
Over 11,000 house lots were distributed since the Government took office in August 2020.