Bartica Massacre 2008…
ꟷ several unanswered questions remain unanswered
Twelve years ago, on February 17, a massacre at Bartica, Region Seven (Cuyuni-Mazaruni) claimed the lives of 12 people and to date, a number of questions by residents about those senseless killings remain unanswered.
This year, in remembrance of those who were murdered on that fateful night, a simple but significant ceremony was held by the Regional Town Council of Bartica along with the Guyana Police Force (GPF) Region Seven Division and the Seventh Day Adventist Church of Bartica.
Residents in the mining community turned out to pay tribute and gave their respect to the murdered 12, whose deaths still haunt their families and loved ones.
Stakeholders, along with villagers, laid several wreaths at the Monument of Hope, a structure built in memory of those killed on February 17, 2008.
Last year, Region Seven's Chairman, Gordon Bradford, had issued a call for the APNU/AFC coalition government under the leadership of President David Granger to establish a Commission of Inquiry (CoI) into the Bartica massacre.
However, to date, no such CoI has been established.
Bradford, during the ceremony, stated that the coalition government should have mounted an inquiry into "what really happened" on that night in his Region.
"We need answers and that is the only way we can get closure. Despite the conviction of two persons (in 2017) for the crimes, we did not call on the President before because…it was being heard in the Court but now the matter has been concluded. The Government inquired into Lindo Creek massacre and some of those relatives were able to receive some closure, we at Bartica, we are left hanging and we don't know why," he had declared in front of a large crowd last year.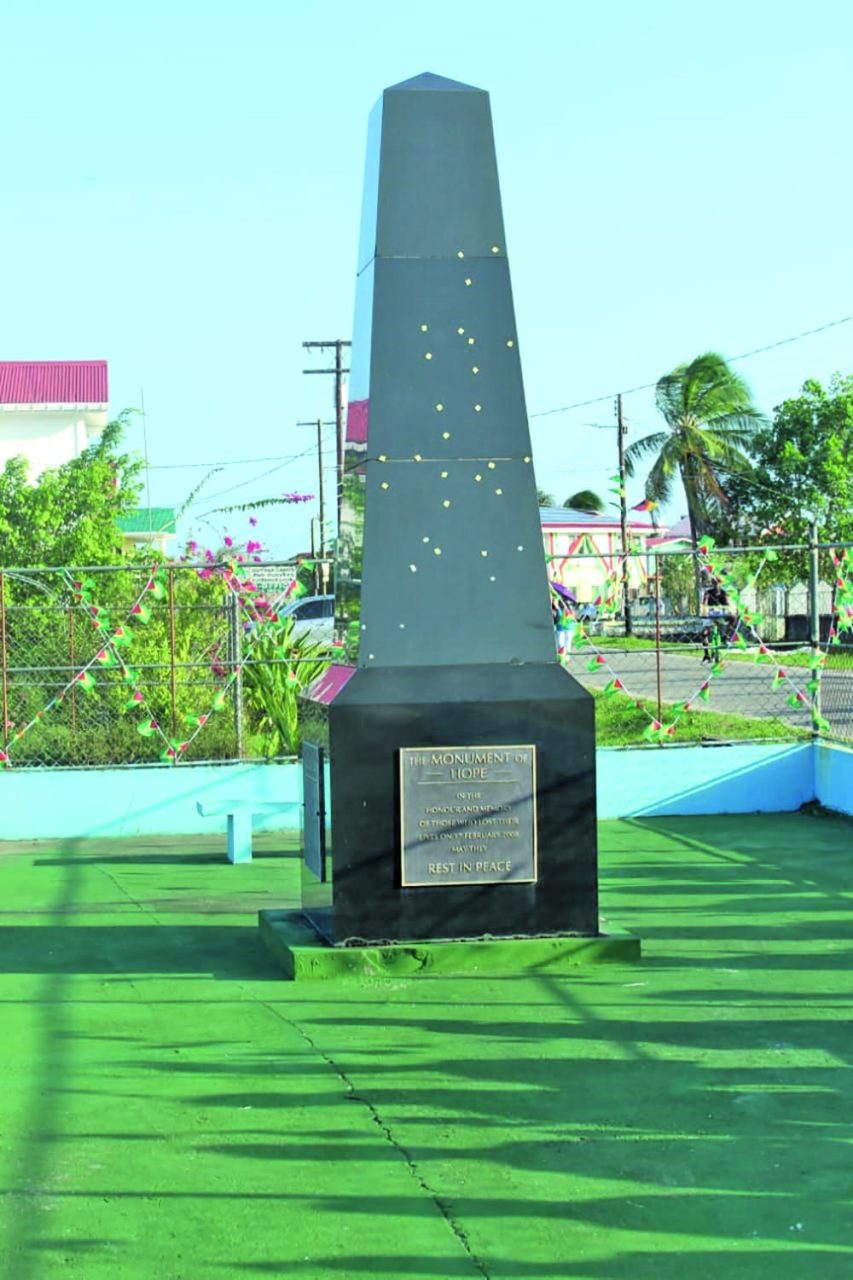 On that fateful and tragic day in 2008, a group of about 20 gunmen attacked the mining town of Bartica, killing 12 residents and injuring several others.
The large group of murderers had arrived at Bartica by speedboat and had landed at the Transport and Harbours Wharf around 22:00h on February 17, that year.
Upon their arrival, the armed gunmen attacked the Bartica Police Station, where they killed Lance Corporal Zaheer Zakir, Constable Shane Fredericks and Constable Ron Osbornes.
After murdering the three Police Officers, the gang stole over $64,000 in cash, arms, ammunition and a vehicle from the Police station.
They used the stolen Police vehicle to drive through the streets of Bartica shooting at civilians, fatally wounding Irwin Gilkes.
The perpetrators then proceeded to CBR Mining, where they killed Irving Ferreira, stole arms and ammunition, and removed two safes containing cash and gold.
Next, they shot and killed Dexter Adrian before returning to the wharf. While at the wharf, the gunmen executed Abdool Yassin Jr, Deonarine Singh, Errol Thomas, Ronald Gomes, Baldeo Singh and Ashraf Khan and then departed Bartica by boat after their one-hour rampage.
During June 2008, the Joint Services attacked a number of gang members at a camp near Christmas Falls, killing one and recovering weapons and ammunition. One month later, two alleged members of the Rawlins' gang were killed by Police Officers near Aroiama after hijacking a bus travelling from Aroaima to Linden. Police Officers recovered weapons, ammunition, literature and the personal property of slain Agriculture Minister Satydeow Sawh. They also arrested a teenage member of the gang.
On August 28, 2008, Rondell Rawlins and another gang member, Jermaine Charles, were shot and killed by the security forces. Rawlins and Charles were killed after a seven-hour standoff, which left one other person dead.
During March 2011, five men were committed to stand trial for the murders at Bartica. One of the accused, Clebert Reece, implicated three of his fellow defendants, along with Rawlins and other dead gang members.
Dennis Williams, called "Anaconda", who was also a member of their gang, was convicted for possession of a mobile phone and attempting to escape.
Back in February 2017, Mark Royden Williams, called "Smallie", and Williams were sentenced to death after being convicted for seven of the 12 counts of murder at the Bartica Massacre.