…Accord's details still embargoed
Despite signing onto a revised Cummingsburg Accord with A Partnership for National Unity (APNU) on December 24, 2019, the Alliance For Change (AFC) is still unsure of what Government Ministries it will have control of if the coalition remains in office after the March 2 General and Regional Elections.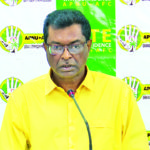 While the details of the agreement inked in December have still not been released to the public, there will be a major shake-up of current AFC Ministers.
AFC Leader and Prime Ministerial Candidate Khemraj Ramjattan, who is also Public Security Minister, on Thursday during a press conference admitted that he was unsure whether his Ministry would be retained by the AFC.
In fact, he stated that to date, no decision has been made as to which Ministries the AFC would control although the revised Cummingsburg Accord was inked almost three months ago.
"The portfolio of the Ministries will be decided by the President and myself in consultation after the March 2nd victory. It is five Ministries that the AFC will get. But it will be decided by myself and the President," he said.
The number of positions being offered to the AFC, once this Administration remains in power, is less than it was given with the first Cummingsburg Accord signed between the party and APNU.
Last year, the ministerial appointments aspect of the revised Accord was one of the main obstacles that prevented an earlier signing of the agreement. It was only on December 24, 2019 (Christmas Eve) that APNU and the AFC, after much deliberation and discussion, were able to ink the deal.
The hurdles occurred owing to the fact that both sides had agreed to a 70/30 split of Ministries to the APNU and the AFC respectively in the 2015 Accord, but were at a stalemate over that and the AFC's push to retain four specific portfolios in the revised Accord.
Prior to the signing of the revised Cummingsburg Accord in December, there was much speculation in the public domain on whether the AFC would have been able to reclaim its previous Cummingsburg Accord concessions after its poor showing at the 2018 Local Government Elections (LGE).
Before the revised Cummingsburg Accord was signed, there was much back and forth between APNU and the AFC about the smaller party's nomination of Ramjattan as the Prime Ministerial Candidate.
In October 2019, President David Granger had told reporters that Ramjattan had not been given the green light by APNU and the prime ministerial candidate would have been determined only after negotiations between the two parties.
"The APNU and the AFC are now discussing the Cummingsburg Accord of 2015 and this is one of the issues that will have to be discussed. But I cannot say now who I will be running with," Granger had previously said.