Guyana is currently on the brink of transformation, but for the country to really benefit from these changes and tap into its full potential, investors must be crystal clear on policies relating to their various interests; and this is where the Government must play its role.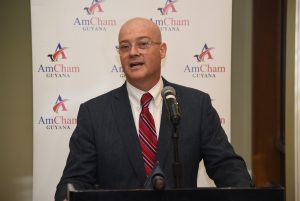 This was expressed by the Deputy Chief of Mission (DCM) at the United States (US) Embassy in Guyana, Mark Cullinane, who at the time was speaking to Guyana Times on the sidelines of a reception hosted by the American Chambers of Commerce (AmCham) on Monday evening at the Marriott Hotel.
Cullinane said, "Guyana has a tremendous opportunity, as you well know, given the changes about to come. It's historic really, this moment in Guyana's history; and to take advantage fully of this moment, the rules for businesses — investors from both Guyana and foreign sources, including the United States — have to be crystal clear. People need to understand what the requirements are to extend their capital in a country like Guyana; to extend their capital in a country like the United States."
He added, "So the way in which the Government of Guyana comes together with the business community and other important stakeholders to clarify how investment is done, what the timeline is to register a business, what the labour laws are, what the best practices are in hiring Guyanese for these new investments that are coming into Guyana, that will improve; you'll see it accelerate even more".
Cullinane believes that Guyana and its people can truly benefit from that growth when clear rules are established, so that businesses can extend capital into the country, hire Guyanese labour, and expand operations that already exist.
Just before expressing these opinions to this newspaper, Cullinane had highlighted that Guyana's high energy costs, coupled with lack of transparency and security concerns, are deterring investors from coming to Guyana.
He had also listed citizen security, the country's complex tax infrastructure, and duties on imports as among other things that are deterring investors.
It was also recently revealed that Guyana's ranking in terms of the ease of doing business has been dropped.
US Ambassador to Guyana, Sarah-Ann Lynch, had in June highlighted that Guyana was recently ranked number 134 of 190 countries in the World Bank's Report on the ease of doing business.
She explained that the World Bank's 2018 Report on the Ease of Doing Business reflected a drop in ranking from number 126 in 2017 to number 134 in 2018, out of 190 countries. Places like Iran, the West Bank, and Gaza ranked better than Guyana.
She noted that this was linked to the fact that Guyana has high rates of taxation, energy, corruption, and lack of transparency coupled by a number of other factors.
"In addition, the duties imposed on many imported items can be substantial, driving costs up beyond competitiveness. I don't need to tell you that the cost of electricity is one of the highest in the region, at more than 35 cents per kilowatt hour.  The power grid system is antiquated, resulting in regular power outage, forcing companies…to install their own power generation systems to cope with the blackouts," the ambassador had said.