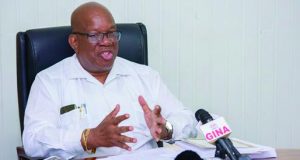 Opposition Leader Bharrat Jagdeo has taken Finance Minister Winston Jordan to task over recent remarks on unemployment in Guyana.
Last week, the Finance Minister flagged Guyanese for crying foul over the lack of job opportunities when foreign nationals are coming here and getting jobs. He made this remark while at a press conference hosted by the PNCR – the largest party in the APNU fraction of the Coalition government.
Jordan had opined that Guyanese are demanding high wages hence jobs often goes to those foreigners who are willing to accept lesser salaries.
"When you say they are no job, I've seen Venezuelans and I've seen Cubans, I've seen Brazilians, I've seen Nigerians and I've seen Haitians now getting jobs in Guyana – a country that supposedly don't have jobs or you hear a lot of young people say, they ain't got jobs. I'm not speaking lies, you have Haitian Carpenters, Brazilians carpenters and plumbers and so on. So there must be jobs, the question is whether the job is paying what you want it to pay. For these (foreign) people yes, for some of the natives no," Jordan had said last Friday.
However, this statement did not go down well with Jagdeo when he was asked about the Minister's utterance at his weekly press conference on Wednesday.
"Is this the government's policy that we must allow immigrants to come in to undercut the labour market. I hope the TUC (Guyana Trades Union Congress) hears this, that we must undercut Guyanese who are working… He's saying that bringing in immigrants here, because they work for cheaper, would be beneficial to the economy so that they can undercut Guyanese labourers because they work for less wages than they do. So, our people must not get employment or they must lower their wages to match those of the immigrants who are coming in to work," he stated.
According to the Opposition Leader, this position by a Senior Government Minister is especially shocking.
"If this is the justification of this government, then I don't know. It's shocking for me personally because I thought our aim is to first of all to look out for our Guyanese people and to ensure that progressively, they get better paying jobs and more jobs – not to try to bring in people to undercut their salaries. This is a shocking revelation to me, this is unbelievable. Do these people think before they speak (about) what they want for?" Jagdeo posited.
Recent figures from the International Labour Organisation (ILO) has estimated youth unemployment in Guyana to be almost 23 percent. To further compound this, the Caribbean Community (CARICOM) has found that 80 percent of prosecuted crimes here are committed by youths between the ages of 19 and 29.
However, a new Guyana Labour Force Survey in 2018 had found that the unemployment rate here to be 12% in the third quarter of 2017, with high disproportions of both women and youth.
The survey was first of its kind in Guyana in recent years and highlighted that unemployment during that period was 37,119. This figure includes 15.3% of eligible females against 9.9% of eligible males, and 21.6% of youth aged 15 to 24 and 28% of young women.
It was also found that the total resident population, aged 15 and above, was 550,831 with the total employed population being 271,068. Of that figure, 166,873 or 62% being males and 104,195 or 38% being females with jobs.
Moreover, the survey further confirmed "a marked disadvantage for women" in the labour market with the proportion of women in managerial positions recorded at 37.8%.
Additionally, a "worrisome labour market situation of youth" was also highlighted, showing the proportion of youth not in education, employment, or training (NEETs). This was recorded at 35.2% and is higher for young women with 63% percent of the total number of NEETs.
Nevertheless, the Finance Minister during his remarks last Friday had posited that more jobs are expected to be created directly and indirectly from the budding oil and gas industry. However, he posited that these jobs will require skills.
"So we have to go and prepare, and don't wait for local content legislation. If the petroleum industry requires 200 skilled artisans, they will take artisans if they're available in Guyana. So, you don't need local content for that… You need to take advantage of the numerous free courses that are being mounted by various institutions to get you educated and skilled," the Finance Minister asserted.
Only Wednesday, 79 young Guyanese graduated from a nine-month technical and vocation skills training initiative. The programme, funded by USAIDS' Community, Family and Youth Resilience (CFYR) initiative, aims to strengthen opportunities for at-risk youth between the ages of 16 – 29 years to become more marketable and successful in joining the work force.
The 'Workforce Development Programme' was designed in a holistic approach, empowering youths with soft and hard skills, and then placing them in employment. During the program, the participants took and completed courses in data operations; electrical installation and motor vehicle repairs.