– Persaud said he did "nothing wrong"
– Ramjattan tells reporters to "haul yuh ass"
The coalition Government has forced outgoing Police Commissioner Seelall Persaud to revoke the approval of a firearm dealer licence, which he granted himself last month, a move which the Top Cop says is now unprecedented.
A section of the State media on Wednesday reported in a staged fashion exclusively on the story which was the same day the Police Force held a farewell parade for Persaud, who goes off on pre-retirement leave next Monday ahead of his April retirement.
When asked about the matter following the farewell, the outgoing Top Cop told reporters that there was nothing wrong with him applying to himself and then
granting approval for a licence to set up the dealership.
In fact, he noted that this was done before.
"In the 1980s, there was a Commissioner who granted himself dealership licence … There is precedence for it … something is wrong with this Commissioner that they tell the public that it was wrong," the outgoing Top Cop asserted.
Asked whether it was ethical for him to make this move just a few weeks before his retirement, the outgoing Commissioner pointed out that the business would have only become operationalised in May, after his retirement.
"There was precedence, it's a business and I can't do business on the job, so it would have only been operational after I retire," Persaud said.
He went on to point out that almost all past Commissioners of Police applied for and grant gun licences to themselves.
"If you look historically over the past 25 years, all the past Commissioners, maybe with the exception of one, granted themselves firearm licences. So it's not anything new but you know we live in a society today where one set of circumstances is good for one person, but not good for the other," he posited.
Nonetheless, Persaud said he would not be challenging the decision to revoke his licence, as he has since become discouraged with the idea of opening his own firearms dealership.
"It doesn't matter; it was one line of business I was contemplating and that won't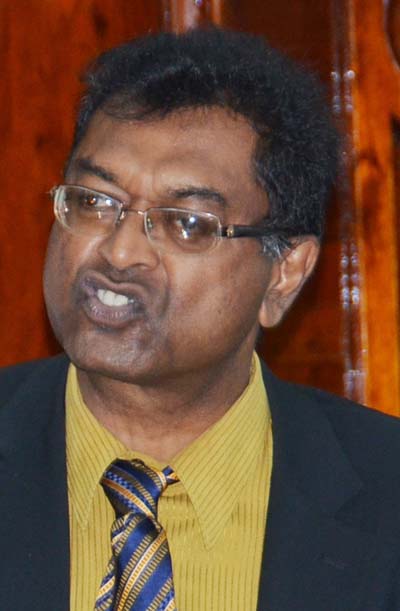 happen any longer. But I have a lot of experience; I have a lot of credibility and I'm very confident in my next phase in life," the outgoing Top Cop stated.
It was reported in the State's newspaper that Persaud on January 29, 2018 responded to an application previously made in his name, approving his business – Professional Outdoors Supplies – as a registered firearms dealer.
Reports revealed that the outgoing Top Cop three days earlier granted approval for two gun licences for a 9mm Pistol and a 12, 16 or 20-Gauge Pump Action Shotgun.
However, it was reported that the matter reached and engaged Cabinet's attention and Persaud was since instructed by Public Security Minister Khemraj Ramjattan to revoke the dealership licence.
The authority of granting firearm licences and licences for gun dealers falls under the remit of the Commissioner of Police, who, upon receiving an application, forwards it to the relevant Policing Division for an investigation into the background and character of the applicant. Based on the findings of the probe, the Commissioner makes a recommendation to the Minister, who then forwards it to the Firearms Licensing Approval Board for review. The Board will then make its own recommendations to the Minister, and based on that or his own deliberate judgement, the Minister grants the licence.
When approached following the farewell parade on Wednesday afternoon for a comment on the matter, Ramjattan was hostile towards the media, telling reporters to have 'time and place'.
He then pointed out that he spoke with online news site Demerara Waves earlier and was promptly reminded that he "cursed" in that conversation, to which he responded, "Yes, there are times when I could use expletives."
Further pressed on the matter, Ramjattan, who is also performing duties as acting Prime Minister, declared: "I am not dodging no issue." He then proceeded to walk away, heading to his vehicle and uttered over his shoulder, "haul yuh ass".
Nevertheless, this most recent scandal involving the outgoing Police Commissioner comes on the heels of the damning report from the Commission of Inquiry (CoI) into the Police Force's handling of the probe into the alleged assassination plot against President David Granger.
The CoI, headed by Retired Police Commissioner Paul Slowe, recommended that disciplinary actions be taken against Persaud and that he be made to resign or be removed for misbehaviour and investigated for perjury.
The Commissioner subsequently proceeded on four months of vacation leave and a few days prior to his November return, he was sent on two months "special leave". That move was translated by social commentators as Persaud getting the boot. However, he resumed duties in mid-January.