…to complement those secured in Barbados, SVG deal
The People's Progressive Party/Civic (PPP/C) Government is engaged in seeking more markets for wood products, including pre-fab houses, that will add to the markets secured in Barbados and St. Vincent and the Grenadines over the past year.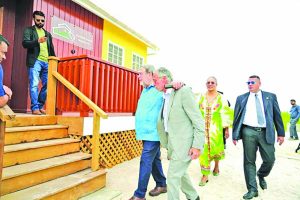 Making this announcement was Natural Resources Minister Vickram Bharrat on the occasion of World Forest Day.
According to the Minister, Guyana has already secured markets in Barbados and St Vincent and the Grenadines for value added wood products such as pre-fab houses.
"We've already secured markets in Barbados and in St. Vincent, and we're working on a few other countries to ensure that we tap into their markets of providing quality wooden houses," the Minister said.
"And this will bring additional opportunities in the forestry sector. Because our aim, as stakeholders in the sector, is to ensure that we cut less trees but still keep the forestry sector viable."
He stressed the importance of value-added products to achieve this objective, noting also that the Low Carbon Development Strategy (LCDS) references sustainable logging. He also lauded the role played by the Guyana Manufacturing and Services Association (GMSA), which has answered the call for more value-added products.
"The Guyana Manufacturing and Services Association, Mr. Rafeek Khan and his team that is here. I notice Neal and others from (GMSA), and they've been leading on the forefront, because we have made a call that Guyana needs to move away from exporting logs and move towards value added," he said.
"Because if we're going to keep our deforestation rates at 0.045 per cent, or if we're even going to reduce our deforestation rate further but still keep the sector viable, then the only way we'll achieve that is through value added."
Earlier this year, St Vincent Prime Minister Dr Ralph Gonsalves had toured various housing developments in Guyana. Gonsalves had said that he was impressed by what he has seen, and his country would be importing 50 houses from Guyana.
Dr. Gonsalves had said that the homes in Guyana's housing programme were better priced than the homes in his own country without there being a difference in quality since, according to the Prime Minister, low- and middle-income houses of both countries sport similar finishes.
"I can speak fairly authoritatively about this type of project because we have been engaged in St Vincent and the Grenadines since 2001 (my Government) with low- and middle-income houses. In fact, we have a category of houses called 'no income houses', and these prices are certainly better than ours, and broadly speaking, the finishes are similar.
"There are things which homeowners will have to do. Like, for instance, they can choose a ceiling they want to put in. And what invariably happens is, within a year or two, people add on a room or two," Gonsalves had explained.
Prime Minister Gonsalves had also revealed that 50 houses would be imported from Guyana. According to Gonsalves, financing is already in place, and once the houses arrive, they would help replace the houses destroyed by 2021's volcanic eruption.
The La Soufrière volcano began an effusive eruption on December 27, 2020. On April 9, 2021, there was an explosive eruption, and the volcano has continued to erupt explosively over several days. Thousands of persons had to be evacuated.
Meanwhile, Guyana owned company Dura Villas is to supply Barbados with pre-fab houses. In February, the 1000-plus modular timber project was officially launched. Already, the Government of Barbados has put in an order for 100 homes to be shipped.
The Governments of St Vincent and the Grenadines and Guyana had already put in orders at the time, while a delegation from Grenada was in the country to gauge the prospects of the product. Rafeek Khan, who is the Chief Executive Office of Dura Villa, had been optimistic that exports could double by the end of this year through support from not just Government, but small loggers. Last year, Guyana exported over US$34 million in timber.(G3)