…announces 1000 temporary jobs, 200 small grants for WCB
Government to address the lack of skilled workers in both Region Five (Mahaica-Berbice) and Region Six (East Berbice-Corentyne).
This is according to Vice President Dr Bharrat Jagdeo, who on Wednesday hosted a series of meetings in Region Five.
Addressing residents at Bath Primary on Wednesday, the Vice President said despite the number of jobs that were lost when sugar estates were closed in Region Six and those lost as a result of the lockdown caused by the COVID-19 pandemic efforts are still being made to have persons reemployed.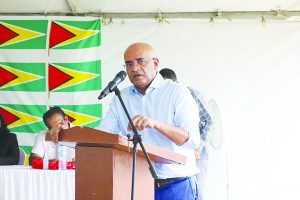 An estimated 50,000 jobs were lost from different sectors during the Reign of the previous administration, the majority from the sugar industry. Additionally, between 35,000 to 40,000 persons were made jobless when the country was locked down for about one year.
In the period leading up March 2020, National Elections, the now ruling Peoples Progressive Party (PPP) while on the campaign trail had promised to create 50,000 during its five-year term.
The party had promised that sugar workers would have gotten back their jobs.
However, according to the Vice President, there is a lack of skilled labour and government is putting things in place to address this.
This is being done by offering training for persons. The former Head of State pointed out that while there is a labour shortage in Region Four, Region Five and Six have a shortage of skilled labour.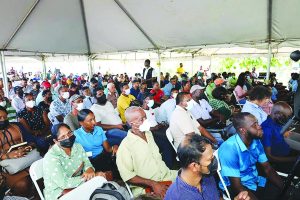 In this regard, Jagdeo said government is willing to provide training for up to 500 persons in the eastern end of the region. A similar commitment was made when the Vice President met with residents at Dundee in the Mahaica area. On that occasion, he said the training will be provided for persons in that end of the region.
"If you want to be trained to operate heavy-duty equipment or anything like that we can bring the training programs to you here," the Vice President told residents at Bath.
"I said at a meeting in Dundee if you can find 500 people from this end there doing that who want to be trained as masons or plumbers, electricians, welders we are or heavy-duty equipment operator like a crane or excavator or bobcat because that's where you have high ping potential how much higher than sugar and everything else you can earn a significant amount of money if you find 500 of these people we can set up the training program right here right in the communities where they can come and train the people because if you have those skills immediately you earn."
The training will also be for other jobs which include construction-based skills. These jobs he explained will pay more than is being offered at the sugar industry.
"That is the only way you're going to get a massive increase in salary. You are not going to get it realistically in the sugar industry. We will keep it alive but you will get small increases and I want to be frank with our comrades because they know what the state of the industry is now if you're not because of lack of investment in five years," Jagdeo noted.
The vice president said that if persons opt for this training, it is possible for them to gain employment within months.
He also noted that the Port Mourant Training Centre in Region Six would be the country's National Oil and Gas Institute.
Meanwhile, he said that while the government is offering people scholarships through the GOAL programme people can also be employed on a part-time basis where they can earn $40,000 working ten days per month.
This he said they can do even as they are attending university through the scholarship programme.
"In the month the next twenty days you can work elsewhere and I am hoping that people in in Region Five make full use of the part-time jobs that we are creating directly from government so that people can immediately start working.
Government had recently announced that 3,000 part-time jobs will be provided across the country. According to Jagdeo, 1000 of those will be in Region Five. Recently while in Region Six the Vice President announced that 800 of the part-time jobs will be going to that region. Government will also make available 200 small grants valuing up to $250,000 for budding entrepreneurs to either start or expand their businesses. According to the vice president this financial assistance will be made possible through the Local Government and Regional Development Ministry.