– as International Building Expo 2022 launches
The Government of Guyana is looking at an innovative model to uplift Guyanese out of poverty by capitalising on the extensive revenues that will be earned during the upcoming Hero Caribbean Premier League (CPL) tournament later this year.
This was announced by President Dr Irfaan Ali on Wednesday evening at the launch of the International Building Expo 2022 which is slated from July 22 to 24 at the Guyana National Stadium, Providence, East Bank Demerara under the theme: "A new frontier for building a One Guyana".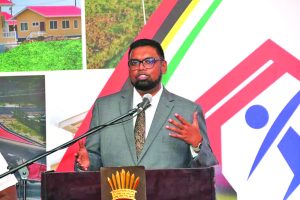 According to the Head of State, the expo is amongst a series of international events that Guyana will be hosting this year that will bring heavy traffic into the country including preliminary matches during the CPL tournament and for the first time in the decade-long tournament, the semifinals and final.
President Ali disclosed that since this announcement was made less than a month ago, there has been a tremendous and overwhelming response not only in Guyana but abroad. In fact, with the government launching 'Cricket Carnival' – a string of celebratory and high-quality entertainment activities over a two-week period, many hotel rooms have already been booked up during that period.
As a result, the Ali-led administration has come up with an innovative model to not only expand the country's accommodation capacity but also uplift its most vulnerable and poverty-stricken people.
"We are looking at a way in which we can marry cricket with uplifting people out of poverty. So, we are setting aside land to build 300 prefab homes. The prefab homes will be used during cricket to host people [for them] to rent, and the revenue from that rental will go as a down payment to the banks for the poorest persons," the president disclosed.
Expressing his confidence that government will be able to get this done, Ali posited that this 10 to 15 per cent down payment that will be made to the banks with monies earned from the rental of these prehab homes will go a long way to benefit those who will qualify for the programme in becoming homeowners.
"The type of houses we are working out is about 15 to 20 thousand dollars per month. That is the type of innovation we are talking about and we are having discussions about. These are the things that can really change the face of the country," the Head of State posited.
Another initiative government is undertaking is establishing a 'bed and breakfast' type of accommodation to offset the impending traffic and provide additional accommodation as well as meals during the tournament that will run from August to September. The Guyana Tourism Authority (GTA) is spearheading this initiative and is creating of registry of persons and businesses that will offer this service. Inspections are expected to be done as part of the process to certify these 'bed and breakfast'.
Nevertheless, Guyana is currently undergoing a construction boom including several projects are already underway for the construction of some internationally-branded hotels in Guyana, with others in the pipeline.
According to President Ali, the upcoming International Building Expo will be the best platform to bring together contractors, potential investors, and material suppliers in one space to explore similar and other opportunities to further develop the country.
"Building Expo gives one the opportunity to understand the transformational changes in the country in the context of infrastructure and construction. I will if you're not part of Building Expo, you're missing out on a huge opportunity that will put you in contact with tens of thousands of people. There is nothing in a marketing budget that Building Expo won't give you and give you faster," he stated.
Moreover, the Head of State challenged participants in the upcoming exhibition to be innovative in the design of their booths and to make use of technology. He posited that the building and construction sector to cut across all others hence it is important to be more interactive and dynamic.
"The development of our country and understanding the development of our country can be done through this building expo. It is an opportunity to basically narrate the future through planning and through positioning… That is why the other sectors must be involved," the president stressed.
Meanwhile, both Housing Minister Collin Croal and Minister within the Housing Ministry Susan Rodrigues have encouraged stakeholders both here and abroad to participate in the upcoming International Building Expo.
In fact, Minister Croal noted that "This Expo provides rich opportunities for homebuilders, contractors, private sector and other stakeholders as well as local and international investors… Be assured that our team at the Ministry of Housing and Water will do all that we can to ensure that your investment in this Expo is worth the while."
The International Building Expo 2022 is being supported by private sector agencies including the Private Sector Commission (PSC) and the American Chamber of Guyana (AmCham).
Persons and companies interested in participating in the Expo are encouraged to register early and benefit from peaks such as first preference in the booth allocations as well as advertising on the building expo website.