A man who was caught on CCTV camera mercilessly beating his 23-year-old wife has been slapped with an 18-month jail term on Thursday.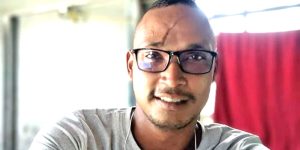 Rawl DaCosta of Pomeroon, Region Two (Pomeroon-Supenaam) appeared on Thursday before Magistrate Esther Sam at the Suddie Magistrate's Court and pleaded guilty to a wounding-related charge. The act was reportedly committed on April 11, 2022 at Charity, Essequibo Coast, while he was imbibing and dancing with two other women.
In the CCTV footage, which went viral on Facebook, DaCosta was seen stomping, kicking, slapping, cuffing, and tugging the mother of two. He was further seen choking the woman, after which he stripped off her shirt and brassiere, leaving her half-naked.
The woman, who was beaten in full view of her younger child, was hospitalised for a few days, and due to the severity of her injuries, had had to receive stitches in her head.
The couple had travelled to Charity with their two young children to spend time at a relative's home. However, upon arriving, DeCosta started to consume alcohol.
After some time had elapsed, the woman requested that they return home, since she had the two children with her. The husband reportedly became angry, and started to verbally and physically abuse her.
She, however, went to the Charity Police Station and made a report against him. There, she was reportedly told to find a relative at whom to spend the night. Soon after, the man returned at a relative's home and started to beat the woman again.
Prior to his court appearance, DaCosta was arrested by the Police and placed on $50,000 bail pending investigations into a report made against him by the woman.