As April 1 approaches − the date for the ban on used tyres to take effect − stakeholders have intensified their calls for Government to reverse its decision in this regard.
The Peoples Progressive Party (PPP) has joined scores of stakeholders in rejecting Government's plan to ultimately ban the employment of used tyres on Guyana's roads. The party rationalises that such a move would visit dire consequences on vehicle owners, businesses, and even the entire economy.
"The PPP stands in solidarity with the hundreds of businessmen and thousands of ordinary Guyanese who are being devastated by the unreasonable and unnecessary decision to ban the importation of used tyres," the Party said on Monday.
The PPP noted that businesses engaged in the sale of used tyres across the country are already closing their operations, putting a large number of persons out of employment and placing their families on the breadline.
The Party noted, too, that thousands of vehicle owners who cannot afford to buy brand-new tyres are forced to purchase used tyres to keep their vehicles operable.
"These include taxi and minibus operators. If these drivers are forced to park their vehicles, many persons (would) be without a job, and the impact it (would) have on the cost of public transportation (would) be massive and (would) affect thousands of Guyanese," the PPP has warned.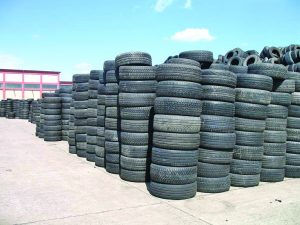 The positives
The used-tyre industry reportedly provides jobs for approximately 5,000 persons, and contributes in excess of $100 million in revenue.
Just a few days ago, a relatively new organization called the Guyana Used Tyres Association (GUTA) explained that as many as 5,000 persons are at risk of becoming jobless if the ban on used tyres should take effect.
The organisation's Public Relations Consultant has called on the authorities to provide statistics to prove that used tyres contribute to road accidents. His contention is that more accidents are caused by speeding, alcohol consumption and inattentiveness, especially by drivers using mobile phones while driving.
However, the group has said it understands Government's concerns regarding used tyres, and has suggested that the Bureau of Statistics develop a mechanism to recognize the good sets of used tyres from those that are substandard.
The GUTA suggested that if the ban is instituted, there would be "significant increase of wear-tyre use" on the country's roads, and the high cost of new tyres would force drivers to continue using their current tyres for longer periods.
Using Government's logic, the group says, incidents of road accidents would increase.
Smuggling
The possibility of tyres being smuggling into this country and the cost of public transportation being increased were also raised by President of the Guyana Minibus Association, Eon Andrews."Guyanese are very innovative persons, and if we are not careful and persons cannot afford to buy those tryes but they need (them), you can have a smuggling culture that is going to develop, whether through the borders or by boats," he reasoned.
Andrews noted that if the maintenance and other costs associated with operating a vehicle should increase, some bus operators may be forced to discontinue their operations, rendering them jobless.
In April 2016, hundreds of concerned stakeholders had signed a petition to persuade Government to rescind its decision to ban the importation of used tyres into the country, but the measure was allowed to move forward.
Finance Minister Winston Jordan has announced that Government would restrict the importation of used tyres effective from April 1, 2017.
Vehicle ban
In addition to the ban on used tyres, the People's Progressive Party is calling on this Administration, which it says has developed a reputation of employing anti-business policies, to review the ban on vehicles that are 8 years old and older.
The Party argues that this measure deprives the ordinary working people of opportunity to own a vehicle.
A protest against both bans is scheduled to take place outside of State House today.