As Government moves ahead with its developmental plan, Finance Minister Dr Ashni Singh revealed that the Administration wants the business community included in its decision-making process.
To this end, he accepted an invitation by the Central Corentyne Chamber of Commerce, Region Six (East Berbice-Corentyne), to determine what assistance can be provided in addressing the burning issues affecting the business community in the region.
One of the main issues discussed at the meeting was the economy of Region Six, which has been facing severe challenges.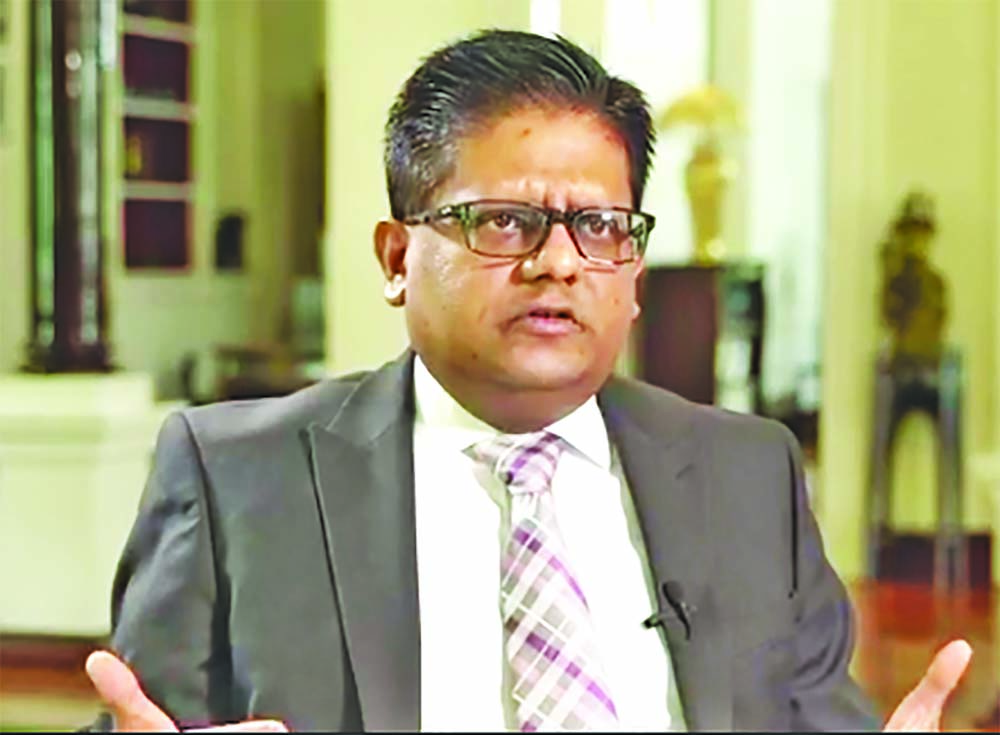 President of the Central Corentyne Chamber, Mohammad Rafeek explained that challenges with the Guyana Revenue Authority (GRA) is one of the main issues.
"We recommended for the Minister that a lot of services from the GRA should be online. For instance, renewing driver's licence, persons have to go and line up in Georgetown for an hour to two hours…  people should have the ability to applying for their licence online and GRA processes it. Those are not things that are difficult to do," the Chamber President disclosed.
He said the Chamber's expectation is that GRA will start delivering more online services. Also, the Chamber proposed that the income tax threshold moves from $65,000 to $85,000. Additionally, with respect to vehicles, the Chamber also recommended that the Government look at ways of having the excise taxes removed from vehicles between 2000cc and 3000cc.
"A vehicle that may cost $6 million when the Government straps on all of the excise taxes and all of the other taxes it might cost about $20 million," Rafeek said while commenting on some of the Chamber's concerns raised with the Minister.
The high interest rates by lending agencies and infrastructural development were also discussed during the meeting.
Meanwhile, apart from the $25,000 COVID-19 relief which was given to every household, the Central Corentyne Chamber has asked for a package in the 2021 national budget which would allow businesses to get back into full business mode.
Rafeek said the Chamber is hopeful that some of their suggestions will materialise.
Meanwhile, President of the Upper Corentyne Chamber of Commerce, Mohindra Persaud also attended the meeting but in his capacity as an executive member of the Central Corentyne Chamber, he said the meeting was timely as a gave the Chamber an opportunity to give input into budget 2021.
Persaud explained that both Chambers are of the view that more agricultural land should be put into use.
"If a student leaves school and wants to get into farming, I don't see any vacant land that you can go to.  There is no land anywhere."
The Chamber official pointed out that to make new lands accessible, the overhead cost is minimal. Government, he disclosed, will get a very good return on its investment if it is in agricultural development.
Business community's
involvement
Meanwhile, Minister Singh disclosed that one of the main issues discussed was the economy of the region, which according to him, has been facing severe challenges.
One of the main factors for this, he told the Chamber, was the policy environment that existed over the past five years.
"A policy environment which did not lend itself to dynamic economic activity but in addition exasperated by political conditions in 2020, and even further exasperated by COVID-19 which really devastated not just the economy of Berbice but throughout the country," Minister Singh outlined.
During the meeting, the business community explained some of the significant challenges facing them.
Many of the issues affect agriculture and tourism in the region.
"Berbice is not only about agriculture and farms, agriculture is very important but there are all the sectors that operate in the county."
Issues were also prioritised according to the Minister, who said it was timely since Government is currently working on budget 2021.
"I think the discussion was a useful one as we consider policy options and relative priorities for investment in budget 2021."
The Minister said the discussion was part of an ongoing close collaboration Government has been having and will continue to have with the Private Sector.
"We are not a Government that is obsessed with pomp and pageantry and frivolous trappings of office, we are in working Government. President Ali demonstrated that on the first day that he assumed office he called the Private Sector in and said he wants to have an open and frank conversation with them on what is needed to restart the economy. That set the tone for his Government and it set the tone for all of us who work with him," the Minister outlined. (Andrew Carmichael)