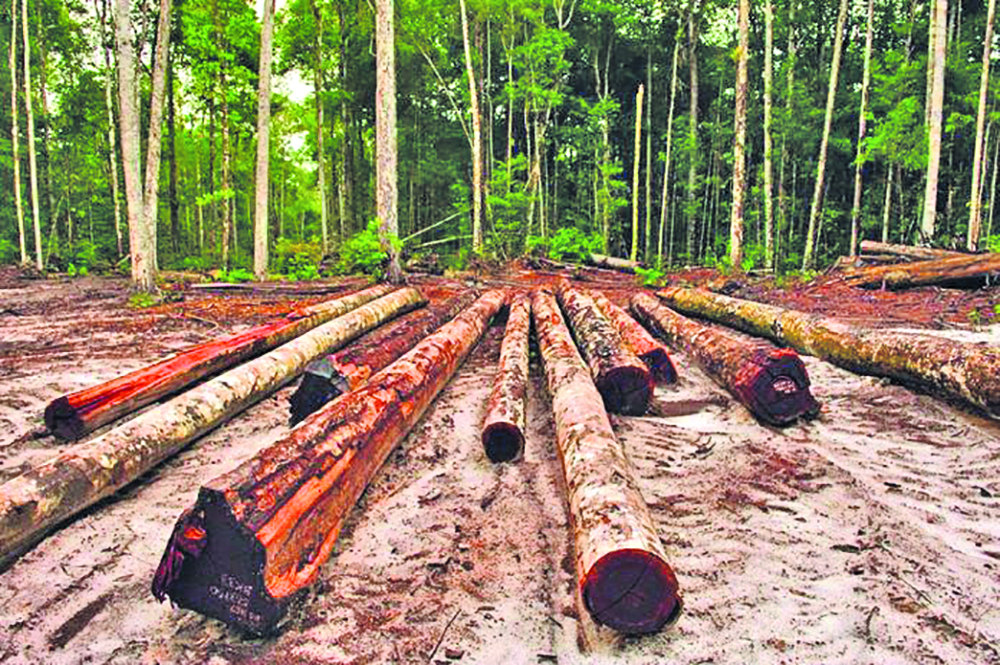 The Natural Resources Ministry along with the Protected Areas Commission (PAC) have warned miners and loggers who are illegally mining and logging within designated protected areas to cease forthwith.
In a statement on Monday, the Ministry explained that these areas include the Kaieteur National Park, Iwokrama, Kanuku Mountains, Shell Beach, and the Kanashen Amerindian Protected Areas.
The Ministry, Guyana Geology and Mines Commission (GGMC), Guyana Forestry Commission (GFC) and PAC said it continues to receive reports of illegal mining and logging particularly in the Kanuku Mountains, Iwokrama and Kaieteur National Park.
"Please note, these illegal activities are not in keeping with the various Acts that govern these regulatory agencies. As such, seizure of all equipment and legal actions will be instituted to prosecute those found guilty," the Ministry said.
Last week, Natural Resources Minister Vickram Bharrat said that continued illegal logging is a detriment which has been affecting the natural resources sector, but Government is inventing new approaches to eliminate this practice. He gave this assurance during the International Day of Forests conference, underscoring that all efforts are geared towards eradicating this practice.
Bharrat explained that there is a high percentage of illegal logging in Guyana, bringing environmental implications and negatively impacting legal loggers. Moreover, it paints a negative picture of the sector and authorities.
Due to Guyana's geographical makeup, monitoring areas where illegal logging may occur is difficult. However, the Minister assured stakeholders that the goal is to eliminate both illegal logging and mining in the country.
Bharrat highlighted the need for a balance between production and environmental degradation to keep the activities alive.
Guyana had, in 2009, signed with Norway a historic forest protection accord aimed at Guyana receiving payments for sustaining its rainforests to absorb global carbon emissions. A total of US$250 million was to be paid to Guyana over a five-year period.
It was revealed by Finance Minister Dr Ashni Singh during his recent reading of the 2021 budget that Guyana has more than US$135 million in climate change-related funds that it is entitled to but has not been able to access due to the political instability under the former Government.
These are funds that the current Government is seeking to have released. Singh had explained that the former Government's mismanagement and then the protracted political crisis from when they fell to a No-Confidence Motion in 2018, led to funding not being released to Guyana by Norway.
All stakeholders and members of the public are encouraged to report suspected cases or incidences of illegal mining and logging to the various agencies or the Ministry of Natural Resources via telephone numbers: 231-2503, 231-2506, 231-2507, Facebook: https://www.facebook.com/mnrgy, and email: [email protected].