An early morning accident on the Linden-Soesdyke Highway has claimed the life of 30-year-old Simon Paul of Victoria village, East Coast Demerara, an employee of the Georgetown Public Hospital Corporation (GPHC).
Paul was reportedly proceeding in a northerly direction along the highway, heading towards Georgetown in his car, PVV 9105, when he collided head-on with a truck heading to Linden, Region 10.
This publication was told that the accident occurred in the vicinity of Hararuni at about 00:30h, and preliminary investigations indicate that Paul was probably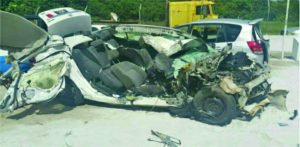 speeding when he apparently lost control of the car and slammed head-on into the truck.
He was reportedly flung from the car, and his body was discovered on the highway, some distance away from the scene of the accident. The car's roof was completely ripped off, while extensive damage was seen to its front and rear. Both windscreens were smashed inwards.
The driver and the porter of the truck were taken to the Diamond Diagnostic Centre, where they were treated and sent away. However, the driver of the truck has been taken into custody as investigations into the fatal accident continue.