…agro-processing can have negative implications
Another installment of the Green Conversations discussion unfolded on Thursday evening at the Pegasus Hotel, featuring key talks on sustainability in Guyana and how it can be achieved through various economic sectors.
The event, which was organised via collaborations with the World Wildlife Fund (WWF), the University of Guyana (UG) and the United Nations (UN), saw input from persons within these agencies.
While delivering his feature address, senior economist Ralph Lucan of the United States Environmental Protection Agency shared some insight into Guyana's economic sector.
He noted that Guyana's economy needs to delink its Gross Domestic Product (GDP) from resources use and pollution. "Decoupling basically means delinking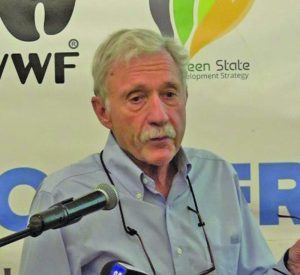 manufacturing activities from resource use from pollution."
Relative decoupling defines a situation when the GDP is rapidly increasing than the resource use. On the other hand, absolute decoupling states that while there must be increases in the GDP, the resource use must remain constant.
Lucan focused his presentation on activities that can result in relative decoupling in Guyana, while acknowledging that there has been great consideration of the agro-processing sector. He outlined the consequences, asserting that a value chain analysis will better understand if the positives outweigh the negatives.
"In the processing, there could be negative environmental implications in terms of increased pesticide, increased fertilisers. There could be inefficiencies in the production processes. There is a certain amount of waste in various sectors," said Lucan, while highlighting the negative aspects.
However, he went on to list the positives, stating, "There can be positive in terms of increased profits, job generation. Those are positive so I think a value chain analysis would complement what is going on already in here, looking at one or two sectors as an example of both the positive and negative."
The economist insisted that the availability of data is a necessity in the manufacturing sector for areas such as what is the export and import rate and moreover, the net gain among issues.
The Conversations are a series of talks held throughout Guyana with its main focus on enlightening citizens on green economic development and how it can be achieved through their input. They can also get information on some of the issues that are emerging from Guyana's Green State Development Strategy.
The document is before Cabinet and is a development plan, expected to last some 20 years. Next year is expected to be the implementation stage of this two-decade framework to set the economy for sustainable innovations.