One day after being accused of presenting untruthful statements to members in the National Assembly over infrastructural projects under the People's Progressive Party/Civic (PPP/C), Public Infrastructure Minister David Patterson made it clear that he will not apologise to Opposition Member of Parliament Irfaan Ali.
This stance was reiterated during a press conference held on Thursday in the lower chambers of the Parliament, despite the PPP/C MP provided him with a physical copy of an in-house Central Housing and Planning Authority (CH&PA) feasibility study regarding the East Bank Demerara to East Coast Demerara bypass road.
Patterson previously spoke on a number of projects valuing some US$608 million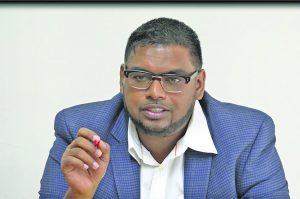 that were undertaken by the PPP/C where no feasibilities were conducted beforehand, adding that he would apologise if such documents were produced.
This appeared not to be the case when media operatives queried if he would withdraw his declarations as he responded in the negative when asked directly if he would apologise. Patterson said he stands by the statement on US$608 million in projects while noting that did not know from where the East Bank (Diamond) to East Coast (Ogle) Road Link Project document surfaced. The study was conducted in 2014.
"No, no… I have acknowledged it [the document]; you don't just turn op and bring a study just like that but I don't what to ascribe anything to anybody. I don't do that," the Minister stressed.
Patterson however, added that the coalition Government commissioned its own study after coming into office, since some of the lands were sold prior to the PPP/C leaving office in May 2015.
During his budget presentation on Wednesday, Patterson outlined a list of projects, which he claimed the previous Administration went ahead and undertook without conducting any feasibility study.
However, at the end of Patterson's 30-plus minute presentation, Ali, who is a former Housing Minister under the PPP/C Administration, had risen to the floor, and told the Speaker, Dr Barton Scotland, that a feasibility study was in fact done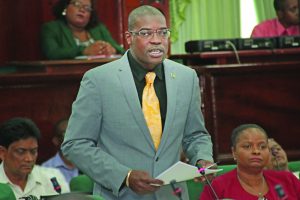 for the Bypass Road project and that he was in possession of same.
In fact, Patterson indicated that the document was on his mobile device.
Ali had also shown the document to the Clerk of the National Assembly, Sherlock Isaacs and offered to hand it over to the Public Infrastructure Minister which he did on Wednesday. After the fiery display between the two sides, the Speaker had noted that he was surprised at the turn of events as the session ended.
During Thursday's afternoon session, Opposition Chief Whip Gail Teixeira remarked that the reason for Government Ministers not easily locating documents is because they have no idea as to where to look as many of the technical specialists and key personnel were dismissed after the coalition came into power.
The 2019 Budget Debates conclude today.