– RAN's North vs South Championships
When the Green Machine ruggers clash with the USA South Panthers on Saturday, they will be aiming to emulate their 2014 achievement of defeating the same opposition, this time in front of home fans in their backyard.
Captain of the Green Machine, Ryan Gonsalves, revealed that his team are well aware of the physicality of the South Panthers players, and thus have been working on the technical aspect of their game as they look to maximize every possible advantage that could help them win.
"We have been working on our technical aspect because we are well aware of the South Panthers' size, their weight; they'll have bigger guys than we played against Trinidad, so we are really working in our technical department so we could stop them at the gain-line."
The current team is made up of 50% of the victorious 2014 squad that won Guyana's maiden RAN Championship.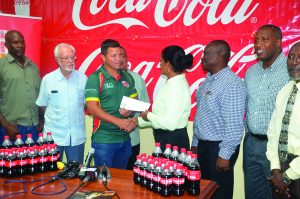 Another factor that will be of tremendous value to the Green Machine, according to Gonsalves, is the crowd support that comes with being the home team.
"With having a huge crowd support at home, it really brings out the best in you as a player. You want to play and do your best in front of your home crowd. What goes for me goes for everyone in the team as well, they feel the same about playing home. We are more happy to be playing the USA South Panthers here at home rather than to be playing Mexico at home in Mexico. Actually, this is a bonus for us, and we're going to use it to the best of our advantage, and we really look forward to Saturday's game."
Asked about the level of the team's fitness, Gonsalves was keen to point out that while the condition of the field in which the team trains is not ideal, he believes that "the guys are going to play 90 minutes" and pace themselves accordingly. He also revealed that the team has been working on getting the "bigger guys" faster and more agile as they seek to have a well-oiled "Green Machine" to take on the South Panthers.
Guyana will host the United States of America (USA) South Panthers on Saturday July 29, for the Rugby Americas North (RAN) North versus South Championship.
After defeating Trinidad and Tobago 24-17 to win the South Championship, the initial prediction was that Guyana would travel to Mexico City to play the home side.
However, Mexico suffered a 39-17 loss to Cayman Islands, which meant that USA South topped their group and are the North zone champions.
The game will kick off at 2pm on Saturday at the West end of the National Park.