– Organisers meet to plan event
As part of the early preparation for the seventh edition of Guyana Softball Cup, which the Georgetown Softball Cricket League Inc will be hosting in October, teams are being invited to discuss its launching and make an input towards the successful staging of the tournament.
An interactive session is scheduled to be held today at the Guyana National Industrial Corporation Sports Club (GNIC SC), Woolford Avenue.
The tournament, to be held over three days, will be played in the over-45 and open categories using the big ball and will be of international caliber with teams from Canada and the USA expected to participate. Incentives will be up for the taking and a female exhibition game featuring some of the leading local players will be contested prior to the finals.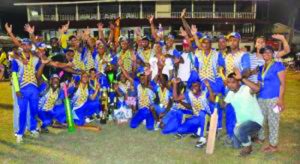 The competition is being be promoted in the USA with cricket commentator Inderjeet Persaud heading a cluster of officials from the GSCL Inc to New York for the New York Softball Cricket League annual Independence Cup slated for July.
Regal All Stars and Regal Masters are among several teams that will carry Guyana's challenge in the competition. Despite their preparation being somewhat affected by the inclement weather, captains of both teams have expressed confidence of winning as they have done in the past. Regal Masters only recently won the GSCL Inc Independence Cup while their open team took the runner up spot.
As part of today's meet with the various softball teams at GNIC SC, Regal All Stars and Regal Masters will be hosting a Bar-Be-Cue and lime with Bar-Be-Cue being served from12:00hrs. Softball fans are also encouraged to come out and support.