President David Granger on Friday urged child inmates of the New Opportunity Corps (NOC) in Region Two (Pomeroon-Supenaam) to take their education seriously as he contemplates the early release of the inmates housed at that facility.
The Head of State visited the facility and interacted with 85 young people; the majority of whom have been committed to the institution for wandering. He said as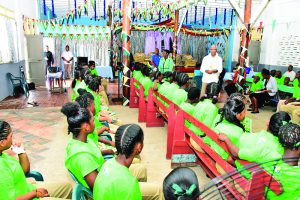 part of as an overall plan to ensure improvements to the physical conditions and the programmes offered, Government will be in the short-term setting up criteria and a system to ensure that regular early release is an option for those who qualify.
According to President Granger, his visit was specially organised to socialise with the students, listening to their needs at the institution and to make possible recommendations to the National Assembly when the 2018 Budget is presented. This, he said, is expected to be done sometime in November this year.
"My Government has five months to plan for this, we will listen and make necessary recommendations, so when we present the budget in November, we can present something comprehensive for NOC" Granger said.
On that note the Head of State stressed that the Administration last year spent the largest portion of the budget on the education sector, emphasising that it was important for children to acquire same and to be serious.
"An education determines what you will do in the future. It can lead you to your success or if you don't have one failure, you need to choose the right path and do so wisely," the President said.
He emphasised that it is the Government's wish to have every child in school, and as such, partnerships have been formed with several organisations and agencies in the past to provide bus, boats and bicycles to children.
"It is important that you know to read, write and spell, we cannot build a country with illiterate people, it is my desire when you leave this institution you become better and employed," the President asserted.
He urged those at the institution to become marketable by venturing into enterprises and cottage industries. The President urged the children to become better and changed individuals after leaving the institution hence aiming to safeguard Guyana's environment.
Attending the interactive session also was Education Minister Nicolette Henry, Assistant Director of Youth (acting) Leslyn Boyle and Permanent Secretary of Department of Culture, Youth and Sport Melissa Tucker, Region Two Chairman Devanand Ramdatt and Regional Executive Officer, Deryck Persaud. (Indrawattie Natram)