As Guyana continues to battle with the novel coronavirus, the Guyana Telephone and Telegraph Company (GTT), through its monthly Pinktober initiative, has donated several sanitising agents to several Non-Governmental Organisations across Guyana.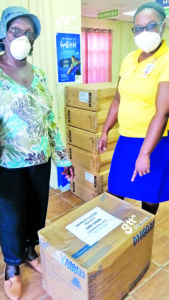 The items donated are for distribution to indigent persons within the respective communities of each organisation.
The donation amounted to some $350,000. The Periwinkle Cancer Club, Linden Cancer Foundation, Berbice Cancer Foundation, the Giving Hope Foundation, Women on the Move, and Debra Shipley-George Go Care Foundation are among the NGOs receiving donations this month.
This is the third monthly Pinktober initiative to be rolled out by the company.
The company, through its Pinktober initiative, is expected to make another donation in June – and in the months to come.