… new approach allows independence and analytics – Munroe
The Guyana Table Tennis Association (GTTA) hosted a press conference at the National Racquet Centre, Woolford Avenue, on Saturday to discuss the implementation of the national team training structure and Cuban High-level Coach Osdani Romero Garcia's visit and inputs to the programme.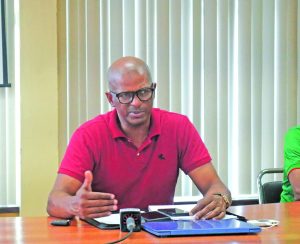 It was noted that the GTTA acquired the services of Garcia for a period of three months to assist the Association with fortifying and rebuilding the national team training structure.
According to Garcia, during his stay in Guyana, he will be looking forward to giving the benefits of all his experience to the athletes. Garcia says that while he predominantly works with the males in the Cuban national team, he is optimistic that he will be able to relay that knowledge to the members of the national team. Garcia explained that he was aware that within the next three months, there would be different levels of athletes that he would be working with and his goal was to help them reach their competitive level in spite of whatever challenges they face.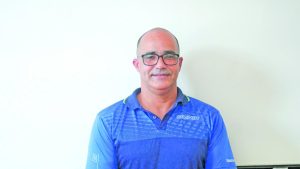 The Cuban Coach relayed that he was impressed with the structure that National Coach Linden Johnson had laid out for the year. He made mention that his main focus would be the junior players in the national team whom he hopes will emerge with more tactical and technical skills, heading into the competitions. As it pertains to the more senior athletes, they will be tasked with taking on a greater volume of work with a strict regimen of training for them to obtain their objectives. In his closing remarks, Garcia posited that while he was bringing all his experience to the table, he was hopeful of meeting expectations. The High-Level Coach is optimistic that he can bring out the best in the athletes and prepare them for what lies ahead.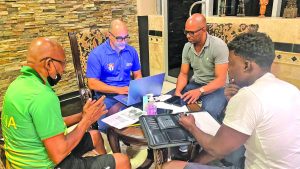 Also sharing his sentiments was GTTA President Godfrey Munroe, who said, "We do a lot of training regimen, but I think the approach that is going to be implemented is one that allows independence and analytics as we seek to transition that knowledge across. We are seeking to incorporate all the coaches, the challenges that our coaches do are voluntary. So, we are seeking to incorporate them; they have their own personal coaching pods which they utilise, which provides some income to them. From an Association point of view, we are seeing how we can finance that and bring them into the national team structure. But those are some of the challenges we are overcoming, but there is a need to bring them in, so we can have synchronised training across the board."
The training programmes will be at the Cliff Anderson Sports Hall, National Gymnasium and the Malteenoes Sports Club. While the training has already commenced, Munroe said that the GTTA would be seeking to provide four hours of training per player as a minimum moving forward.