On Friday last, Guyana's senior women's national team played to a draw in what could have been considered a must-win game against Nicaragua. While the draw puts Nicaragua in an impossible position to advance in the CONCACAF Women's Qualifiers tournament, it also puts Trinidad and Tobago in the driver's seat in Group F.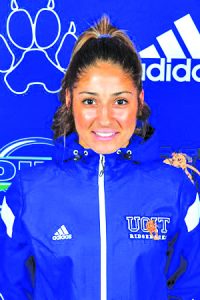 Now, nothing less than a victory against the twin-island republic is required for Guyana to be the lone team from Group F to advance to the CONCACAF Women's Championships later this year. While the task may seem difficult, it is something the Coach and players think they can pull off.
Reflecting on last Friday's result against Nicaragua, Captain Kayla De Souza and Coach Dr Ivan Joseph described the mood in the camp.
"I think anybody would like to come out with three points, but I think we took a lot of positives from the [Nicaragua] game and we recognised it may not have been the result that we wanted to keep us at the top of the group, but again, just taking those positives and how can we bounce back from that and learn from the positives as well as the negatives," De Souza shared during a virtual press briefing from Tobago on Monday morning.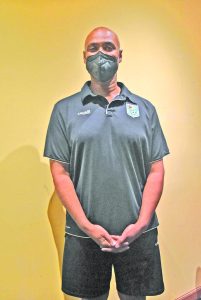 On the other hand, Dr Joseph indicated, "The goal didn't change and our objective didn't change. We wanted to be in a position to compete for the Championship and we've done exactly that. We've played solid defensively; we haven't allowed a single goal, no other team in this conference or in this group can say that. And so, now, we put all those things together and you know, I'm extremely confident in our young ladies.
"I think they're well-prepared. I think they're going to develop and put forth an exciting, attacking game that will hopefully see us on the other side of victory," the Lady Jags Head Coach added.
Coach Joseph even went one step further to accept accountability for the stalemate against Nicaragua, expressing that much more could have been done to secure three points in the home game.
"I think that I needed to make sure that I provided a lot more clarity and purpose in my messaging and make sure that I was much more effective in making sure our game plan was more effective. As a Coach, I just was not on top of my game. Whenever a team doesn't perform well, I don't want to deflect blame, I own that, I'm accountable for that. So, I'm thinking what me and my staff can do better," Coach Joseph commented.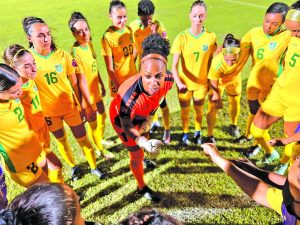 With their focus now on a win against Trinidad and Tobago when they meet at the Dwight Yorke Stadium, Scarborough, Tobago today, the duo discussed their intention to walk away with a victory tonight.
"I will guarantee you this, that we will play our very, very best. And if we play our very best, the process and the winning will take care of itself," the Head Coach promised.
To these sentiments, De Souza added, "We have to win. So, a win is something that we need to do and not just to advance in the tournament, but for the legacy of the programme, to move forward. Me being an older player and looking at this is slowly the end of my career; this is not somewhere I want to leave off with a loss. I want to move forward, because I believe in our team."
The match is scheduled for 18:00h (6pm) local time this evening and will see the winner advancing to the CONCACAF Women's Championships, July 4-18 in Monterrey, Mexico.