…to set up Embassy in March
A number of countries, including the Latin American country of Guatemala, are interested in helping Guyana to return the sugar industry to profitability. Guatemala is in fact slated to set up an embassy here in just a couple of months.
During a press conference held on Tuesday to mark his return from India, President Dr Irfaan Ali spoke about international interest expressed in helping Guyana make the Guyana Sugar Corporation (GuySuCo) profitable. One of those countries is Guatemala.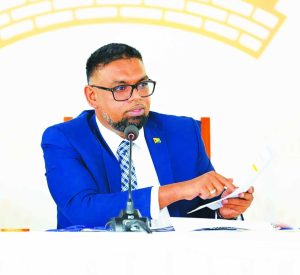 "In March, Guatemala is establishing their embassy here; a full presence here. And they're also very interested in supporting us in terms of sugar and GuySuCo," President Ali explained to the media as he explained the necessity for bringing technical experts into GuySuCo.
Guatemala is the second largest exporter of sugar in Latin America, and the fifth largest exporter in the world. With Guatemala being a sugar producer in its own right, it can provide technical expertise to GuySuCo.
"In relation to GuySuCo, we have to bring in technical expertise," he declared. "We've been open to Private Sector involvement, and any Private Sector involvement we've had expressions of interest, but now we have to work on getting the technical capability to support our local management team to push this company faster into profitability. Guatemala is also interested in this," he said.
The former A Partnership for National Unity/Alliance For Change (APNU/AFC) Government had closed the Wales Sugar Estate in 2016, and subsequently shut down the Enmore, Rose Hall and Skeldon Estates. This resulted in thousands of jobs being lost, and only Uitvlugt, Blairmont and Albion Estates being in operation.
The People's Progressive Party/Civic (PPP/C) had promised on the campaign trail to reopen these estates, and within weeks of being in office, had taken steps in this direction. This included the Administration inviting Expressions of Interest (EoIs) from investors. According to the invitation for EoIs, "A joint venture, partnerships, or a leasing arrangement on the now re-opened vested sugar estates at Enmore, Rose Hall and Skeldon, and also on the operational sugar estates at Uitvlugt, Blairmont and Albion…" were being sought.
The notice invited "…interests from the Private Sector to participate in different forms in the ownership or operations of GuySuCo."
After taking office in 2020, the (PPP/C) Government had also announced, in the Emergency Budget presented in September 2020, that some $5 billion would be injected into the sugar industry for the phased reopening of the closed estates. GuySuCo was allocated a further $2 billion in Budget 2021 by the PPP/C Government for capital works to be undertaken at the various estates to help in the turnaround of the sugar industry. Last year, GuySuCo received $1 billion in supplementary funding from the Government. In budget 2023, $4 billion has been allocated.
According to Finance Minister Dr Ashni Singh in his budget speech, the Government remains committed to the revitalisation and restructuring of the sugar industry to support a diversified and modernised sector, ensuring its sustainability and economic viability.
Singh also said that, in 2022, Government advanced the recapitalisation of Albion Estate, which was flooded, and Blairmont Estate. "We remodelled the marketing and sales mix to move away from bulk sugar to packaged higher value-added sugar," he said. This year, he added, in support of the sugar industry and those who work in that industry, the Government has allocated $4 billion for GuySuCo. This amount is expected to finance, among other things, the start of construction of the Albion Packaging Plant and the expansion of the capacity of the Blairmont Packaging Plant.
"We have also targeted, sir, the acquisition of a drying machine to improve the quality of our packaged sugar, and the acquisition and deployment of a stick packaging machine to offer a smaller sachet of sugar to meet the needs of premium markets," Finance Minister Dr Singh has said.
Additionally, Dr Singh pointed out that it is anticipated that grinding operations at Rose Hall would commence in the second crop of 2023, "and smoke will once again rise from the chimneys" at the estates, he has promised. (G3)