…1 nabbed in escape bid
A businesswoman and an employee were on Monday held at gunpoint at Land of Canaan, East Bank Demerara, and relieved of a bag containing more than $5 million in cash.
The woman, who operates a service station in Soesdyke, EBD and lives as Land of Canaan Gardens, was on her way to a commercial bank to make a deposit when the robbery occurred.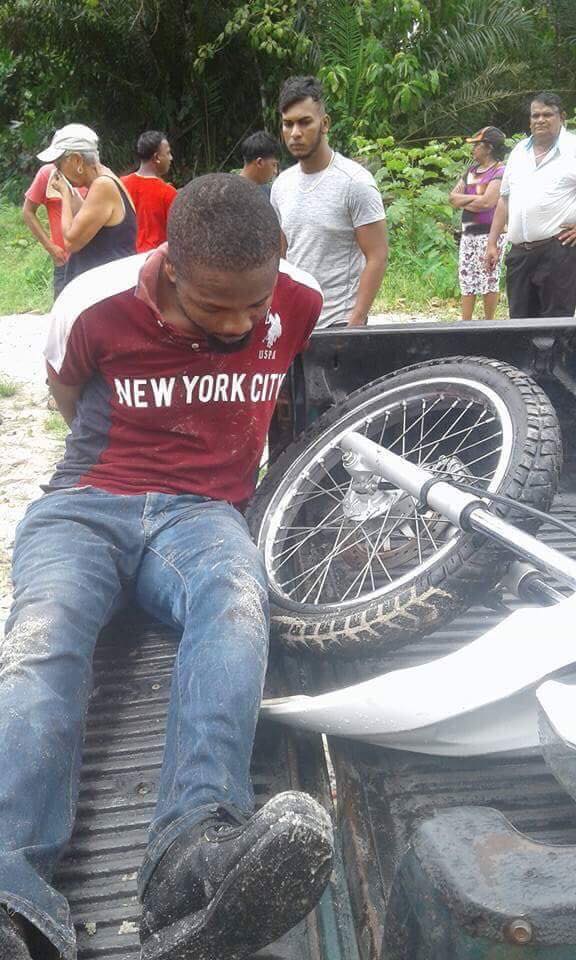 Reports are that while on her way to the Diamond, EBD bank, the woman stopped at a business place in Land of Canaan to drop off an invoice, and as she was about to re-enter her car, two men on a CG motorcycle confronted her.
One of the bandits, who was armed with a handgun, grabbed her and forced her into the car, after which he grabbed the bag containing the money. After collecting the bag, he handed it over to his accomplice who was on the motorcycle.
The gunman then exited that car, hopped onto the motorcycle, and the bandits rode away. As the men rode off, an alarm was raised and persons in the area went in pursuit of the men. One of them was reportedly nabbed, while the other made good his escape with the bag containing the cash.
A relative of the traumatised businesswoman explained that he received the telephone call informing him that his daughter-in-law was robbed, and that one of the bandits was apprehended by public spirited citizens who went to her aid.
He noted that the money contained in the bag was from sales at the service station over the weekend. The businessman further stated that after reviewing the CCTV footage at the service station, it is believed that the robbery was executed with the assistance of an employee.
He stated that the man who was arrested was seen in the footage speaking with someone at the business place. The man added that the CCTV footage was handed over to the Police as they continue their investigations and hunt for the second suspect.
He, nevertheless, was happy that his daughter-in-law and the employee were not injured when the robbery was committed. He, moreover, thanked the Police for their prompt response to the distress call.
Guyana Times understands that the employees at the service station were questioned in connection with the robbery.