Two houses have been gutted and 13 persons have been rendered homeless following a Monday afternoon fire of unknown origin in Hadfield Street, Georgetown.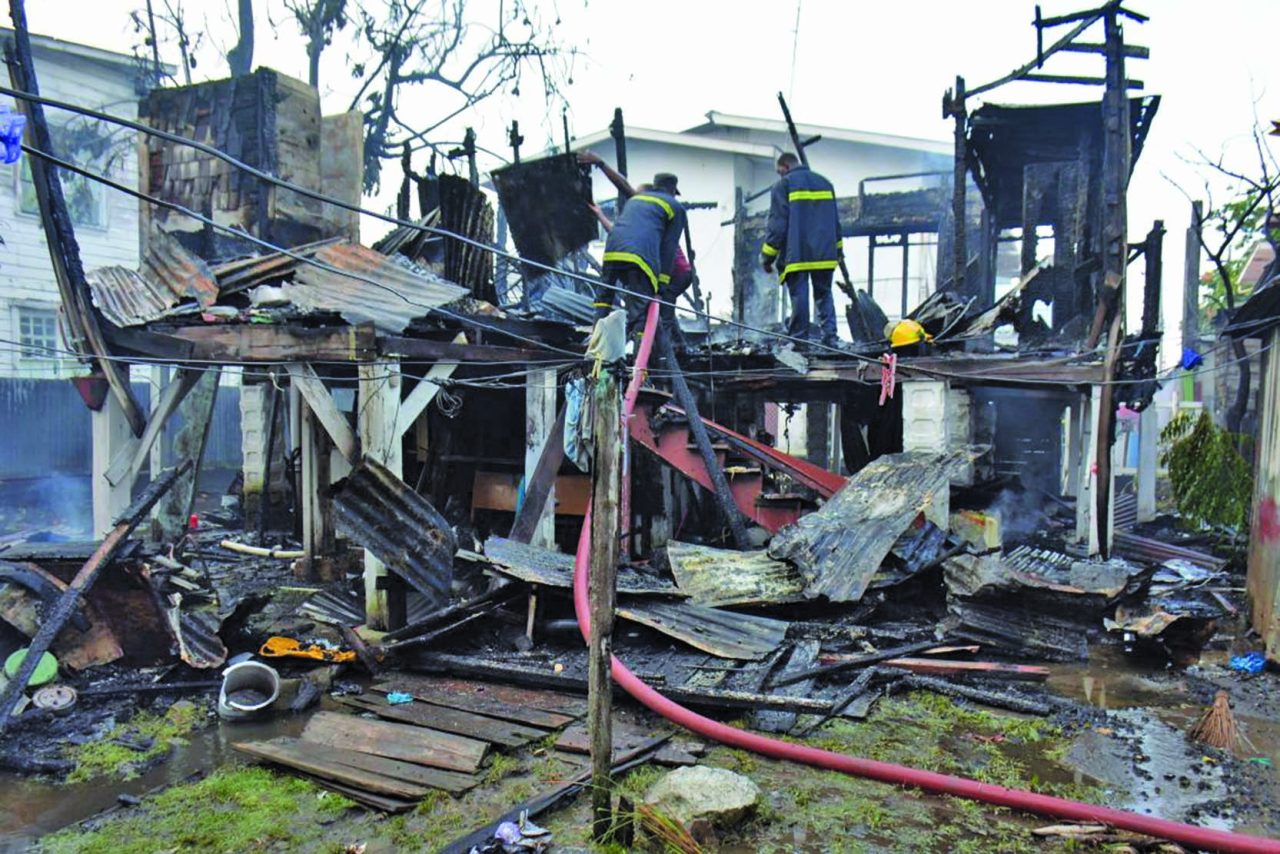 Guyana Times understands the fire started in a one-storey wooden house located at Lot 69 Hadfield Street, where one of the occupants of the home – an elderly woman — was at home with her grandchildren. Neighbours say smoke was seen emanating from the house, but its occupants managed to escape unharmed.
Alarmed at the flames, residents immediately called the Guyana Fire Service (GFS), which arrived promptly. While they were unable to save the adjacent houses from destruction, the firemen were able to control the blaze and prevent it from spreading further to the other buildings which were in close proximity to the inferno.
When this publication arrived at the scene, firefighters were battling the blaze in efforts to contain the fire. A tenant, Patrick Hall, one of ten persons who resided in the house where the fire started, related that he was returning home from work when he saw smoke emanating from what used to be his dwelling. In disbelief, he quickly made it over to the front of the house, but was unable to save anything from burning. The 40-year-old is now counting his losses and contemplating his next move, as his sister and her seven children, who had been residing with him for the past decade, now have nowhere to stay.
The house to the east of this building was almost flattened. It was occupied by 3 persons, who were inconsolable in their anguish as they counted their losses as well.
GFS officials who were at the scene battling the blaze were unable to state definitively what had caused the fire. Thankfully, no injuries were reported.
GFS Divisional Operations Officer Gregory Wickham told this publication that two buildings were completely destroyed.
"We have two buildings that have been completely destroyed, and two others have been slightly scorched. Upon arrival, the first building was alight and the second one was partially engulfed. We are still investigating. The second building has been completely destroyed too. That's how serious it is," he explained.
He said that an investigation has been launched into the fire.