…as another 67,537 doses of Sputnik V vaccine arrive
With over 19 per cent of its population vaccinated against the novel coronavirus (COVID-19), the Inter-American Development Bank (IDB) reported that Guyana is the fourth leading country in the Latin America-Caribbean Region in relation to vaccination numbers.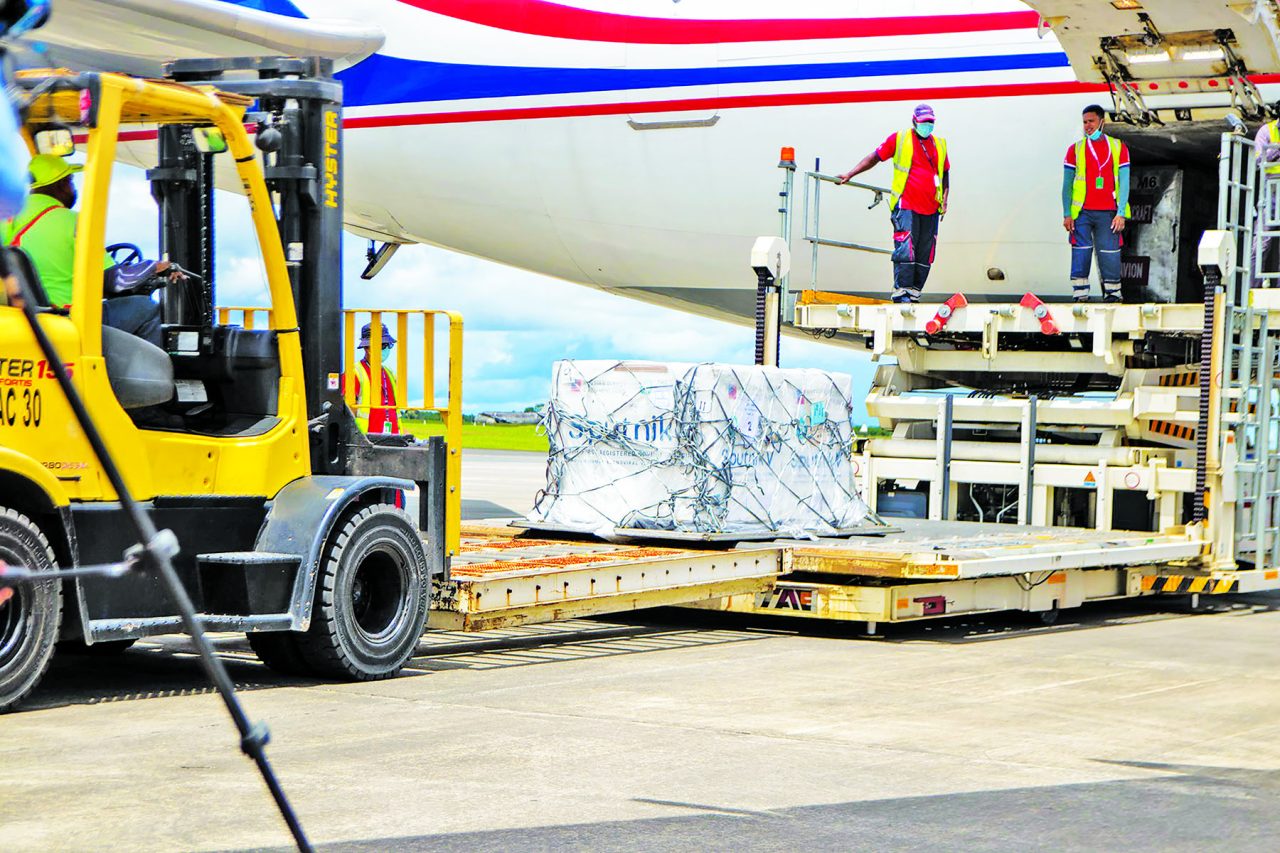 Through April, Guyana has received 265,000 doses through donations, the COVAX Facility led by the World Health Organisation (WHO) and Government purchases. The vaccination campaign began after Guyana received 3000 doses of the Oxford-AstraZeneca vaccine as a donation from Barbados (originally from India). Other donations include 20,000 doses of the Sinopharm vaccine from China, and 80,000 doses of the Oxford-AstraZeneca vaccine from India, of which Guyana donated 5000 back to Barbados.
Finally, Guyana received 24,000 doses of the Oxford-AstraZeneca vaccine at the end of March through the COVAX Facility, which is the first instalment of the total of 104,000 doses originally planned through this mechanism. By April 19 Guyana had received 138,000 doses of the Russian Sputnik V vaccine. This is part of the Government's plan to purchase 200,000 doses of this vaccine, all expected to arrive in the near term.
On April 16, 2021, the COVID-19 vaccination campaign was opened to everyone over the age of 18. As of early May, more than 150,000 people had received at least one dose, representing 19.2 per cent of the population.
"Guyana's vaccination rate is below that of Chile (44.8 per cent), Uruguay (35.4 per cent), and Barbados (26.3 per cent), but ahead of all the other more populated countries in Latin America and the Caribbean," IDB said in its quarterly report.
67,537 doses
On Monday, Guyana received 67,537 doses of the Russian Sputnik V vaccine to further advance its vaccination campaign.
The vaccines arrived aboard an Amerijet flight at the Cheddi Jagan International Airport and was received by the Ministry of Health officials.
The Ministry explained that the shipment was delivered free of charge by Amerijet.
In a statement, Amerijet said that it is honoured to be able to support the Government of Guyana during this global health crisis.
"These are the kinds of shipments that remind us that we move the goods that enrich and connect the lives of our friends, customers, and the communities we serve; they can change and even save lives. As the leading all-cargo carrier in its service region, Amerijet is in a unique position to assist with immediate humanitarian support and medical supplies. All of us at Amerijet hope that today's shipment will help provide relief to the impacted communities in Guyana," Tim Strauss, CEO of Amerijet International Airlines said.
The IDB reported that the average number of daily new COVID-19 cases decreased from a high of 53 in September 2020 to an average of 37 in October through December and 38 in January through February 2021. However, the average number of daily cases climbed to 54 in March and 101 in April. In relative terms, average transmission rates in Guyana peaked at 11 new cases per 100,000 population in September and reached a high of 16 in April, similar to peaks experienced in Suriname and Trinidad and Tobago. (G2)