In spite of the lack of sport during the Coronavirus pandemic, Guyana Beverages Inc is still throwing its support into the sporting fraternity. This time around, Junior Pan American Games qualifier Miguel Wong is on the receiving end of that company's generosity.
Miguel Wong continues to receive the support of Corporate Guyana as he embarks on a training opportunity ahead of the first-ever Junior Pan American Games, to be staged later this year.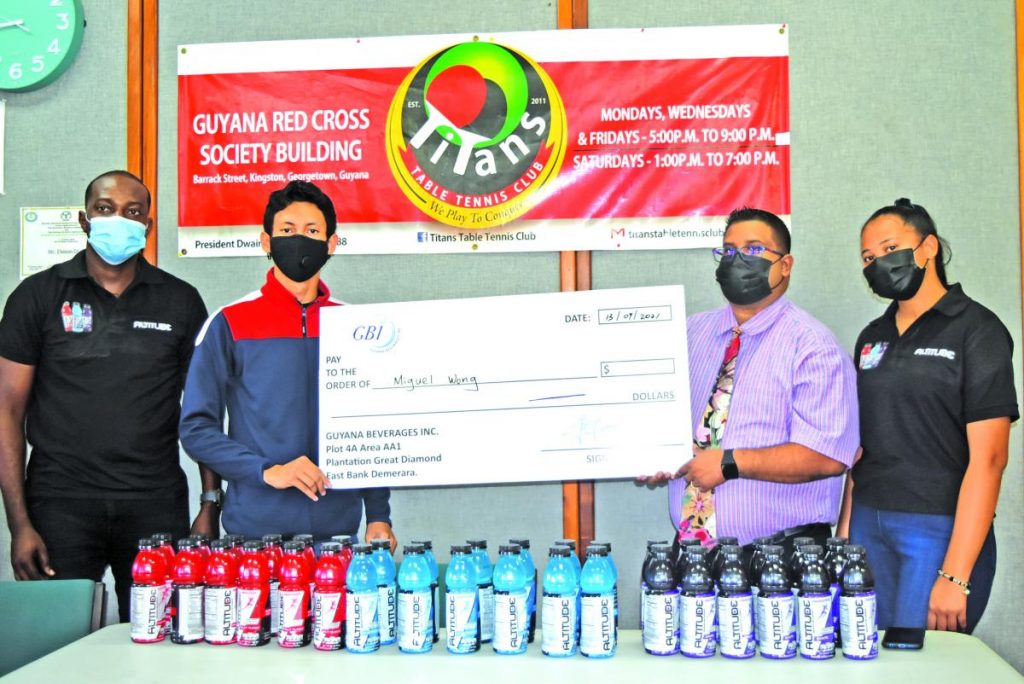 Guyana Beverages Inc, through its 'Altitude Sports Drink' brand, has joined a long list of sponsors who will be assisting the 20-year-old table tennis player in his journey to Cali, Colombia.
At a simple ceremony held on Wednesday afternoon at Wong's Club, Titans Table Tennis, GBI's Raymond Govinda wished the athlete the best on his travels, and shared a bit about the Altitude brand.
"He's one of the best male competitors that we have in the country, and Guyana Beverages Inc, we have recognised the potential of this young man, and this afternoon we're here to give him financial support as he prepares to head to the Pan Am Games in November this year," Govinda said.
He continued, "So, Miguel, we want to wish you the best. Make Guyana proud. It's a premium brand, it's available on the market, and we want to encourage those athletes out there who haven't given Altitude a try, this is your chance to try Altitude. We have a good formulation that is suited to help you rehydrate quickly after those performance workouts," the GBI Manager added about the brand.
Govinda went on to assert the Company's wish to continuously give backing to Guyana athletes, noting that the GBI is about action and not 'talk'.
"As a company, Guyana Beverages, we've been always supportive of our young people and sports on the whole, and these are the opportunities that are needed to make more Miguels come to pass in our country."
He went on to say, "A lot of persons, they just talk, but they don't invest in our young people. And we're happy that we can do it. That is one of our track records, and we intend to keep it over the next few years."
On the receiving end, Wong revealed that he is now looking at two clubs in Germany and the USA for his pre-tournament training, which he hopes to depart for in two weeks' time.
As the 20-year-old listed the number of firsts he was able to achieve, he expressed his gratitude to the company.
The table tennis player gushed, "This is the first ever Junior Pan American Games which I'm very happy to be the first Junior Guyanese to qualify, and not only the first Junior Guyanese, the first Singles Caribbean representative from the Caribbean region."
He added, "I'm very elated to have on board with me today Guyana Beverage Inc through the Altitude brand. I just want to get as much preparation in."
The Junior Pan American Games are scheduled for November 25 to December 5, with 4 Guyanese athletes already qualified. Swimming's Aleka Persaud, badminton's Priyanna Ramdhani and Akili Haynes, and table tennis's Wong have all qualified for the games. The boxing fraternity is still awaiting word on the qualification of its youth boxers.