Guyana was recently bestowed with a "Destination Stewardship" award from the Caribbean Tourism Organisation (CTO), for its collaborative approach to maintaining the cultural, environmental and economic integrity of the country.
Receiving the award on behalf of Guyana were the Guyana Tourism Authority's (GTA's) Director, Brian Mullis and Deputy Director, Carla James at a Caribbean conference on "Sustainable Tourism Development" in St Vincent and the Grenadines under the theme "Keeping the Right Balance:- Tourism Development in an Era of Diversification".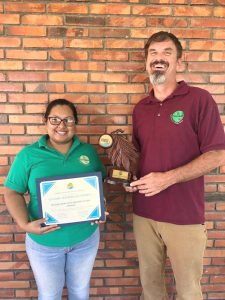 After receiving the award, the Deputy Director noted that the GTA has been working tirelessly to include tourism best practices into all that the agency does.
"Guyana, through the work of the Guyana Tourism Authority and its partners, has expended considerable effort in recent years to incorporate sustainable tourism best practices into all aspects of its tourism strategy, policy, planning and programming. It is always good when your destination or business is recognised for the hard work that is put in," she said.
In addition to the Destination Stewardship Award, Guyana also received a "Karanambu Lodge – Sustainable Accommodation" award.
In this regard, GTA said it is committed to sustaining the momentum.
Guyana Times was told that the 26 members of the CTO were judged based on their input to improving the long-term competitiveness of tourism businesses and destinations; improving the well-being of communities as safe places to visit, live and invest; preserving and conserving cultural, historical and natural heritage; promoting a sense of place and authenticity, including tourism stakeholders in decision-making and communicating and promoting sustainable tourism good practices to other tourism stakeholders.
Back in March of this year, Guyana was awarded the number one "Best of Ecotourism" destination in the world. The award was presented to Guyana at the ITB global travel trade fair in Berlin, Germany.
The second annual "Best of Top 100" Awards is a selection of the finest top 100 destinations selected by a panel of experts who review sustainability success stories submitted by destinations worldwide.
The newly created "Best of Ecotourism" category was added in 2019 and put Guyana up against very well-known and experienced ecotourism destinations, such as Sierra Gorda in Mexico, Tmatboey in Cambodia, and the Galapagos Islands in Ecuador.