…operations heavily stymied by withheld funds – Chairman
The Tuschen-Uitvlugt Neighbourhood Democratic Council (NDC) in Region Three (Essequibo Islands-West Demerara) has called out Government for statements made during an outreach on Wednesday, which suggested that the local organ was responsible for all shortcomings within the communities.
Speaking with Guyana Times on Saturday, Chairman of the Council, Vishal Ambedkar expressed his dissatisfaction with some of the assertions that were made by Government officials.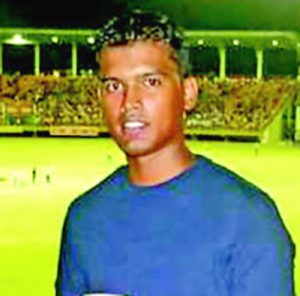 At the outreach at the Meten-Meer-Zorg Community Centre, the NDC was blamed for not cleaning the school compounds among other things. However, Ambedkar pointed out that the maintenance of schools are budgeted in the Regional Democratic Council's funds.
"I want to make it unequivocally clear that maintenance of schools and their compounds are budgeted for in the national and regional budgets by the Ministry of Education and, in the case of Region Three, the RDC. As a matter of fact, it is the regional administration that has the slasher which is to be used for maintaining schools and community grounds," he informed.
The Chairman further went on to say that the Communities Ministry reduced the Community Infrastructure Improvement Project (CIIP) workers assigned to the Council, from a total of 16 to just six. Payments to ensure these activities were carried out were also stifled.
"Before this Government came to power, the NDC had 16 CIIP workers cleaning and clearing drainage paid for by the Ministry of Communities. That number has been reduced to six and the disbursements to pay them have been stifled by the Ministry".
He related that while they were elected to serve the communities, their operations are stymied by lack of funds from Government's end. The $1M grant to maintain recreational compounds and facilities was rescinded and despite numerous calls, there has been no response.
Ambedkar told this publication, "Community centre grounds no longer receive a grant of $1M to improve their recreational facilities from the Ministry of Sports in collaboration with the NDCs. Funding which they depended on. The NDC has written the Ministry of Communities many times for assistance with the improvement of grounds but nothing has materialised".
He added, "The Regional Executive officer is aware of the issues facing the residents of Tuschen-Uitvlugt and of engagements between the RDC and the NDC but letters sent to the REO's office requesting assistance has proven to be a complete waste of time since no actions are taken on the many issues discussed".
He insisted that they are many plaguing issues in the communities which have not been addressed.
"The residents particularly Zeelugt New Housing Scheme, observed that roads leading up to the Nursery School were graded days before the Minister stopped by for what was called community outreach. The residents are not fooled. They recognise political pageantry. I am not going to talk about low and no water pressure, blackout, crime rates, or this, or that, or the rest".