…aimed at qualifying vulnerable persons of all ages
The Sophia Community Development Association (SOCDA) on Saturday welcomed over 30 individuals to their night school programme, which will provide classes for them to write the Caribbean Secondary Education Certificate (CSEC) examination next year.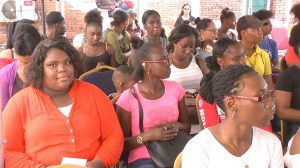 The programme was established by the non-governmental organisation (NGO) in 2016 for persons who never had a chance to write the examinations, or those who would have done so but failed to achieve satisfactory results. To date, over 450 persons have registered from ages 14 to 50.
Subjects offered presently during the evening classes are: Mathematics, English, Electronic Documentation and Preparation Management, Social Studies, Principle of Business, Principle of Accounts, Integrated Science, Human and Social Biology and Agricultural Science.
Speaking at the orientation ceremony, Treasurer Sidney Nelson explained that SOCDA was created to reduce the prevalence of crime and violence within the community. The objectives are "to foster a sense of community identity by providing resources and opportunities to promote self-determination through educational and vocational training".
Operations Manager Morgana Bethune-Adolphus emphasised the need to educate persons with the relevant skills to make valuable contributions to their own lives and society.
"The mission of SOCDA is to educate, empower and develop innovative leaders with the skills, competencies and predisposition, which will contribute to the nation's development. And that is exactly what we do," Bethune-Adolphus said.
Social Cohesion Minister, Dr George Norton was present at the gathering, as he lobbies for a foreign language to be introduced in the curriculum. He made promises to assist the organisation with a subvention to continue their work.
"In congratulating the night school for the increase in subjects which they would have offered in such short period of time, I would ask that they make every effort to get a foreign language involved, whether it is Spanish, Portuguese, or French," Norton suggested.
Teachers of the evening sessions raised some challenges they would have faced in the past, relating to the availability of textbooks and educational materials. In some cases, the classroom space is limited and can barely accommodate the students.
On their student's end, it was highlighted that many of them are challenged with financial problems, causing some to drop out. Others travel from far distances to take advantage of the free classes.
In 2019, 26 individuals wrote the examination and achieved outstanding results. Some have opted to pursue tertiary studies while others have gained employment. For the 2020 batch, over 30 students will be taking the classes.