For the next three months, 44 new recruits of the Guyana Fire Service (GFS) will be undergoing extensive firefighting training.
They are currently being trained to respond to fires, hazardous materials incidents, vehicular crashes and extrications, and swift water rescue, and upon graduation, will officially become professional firefighters.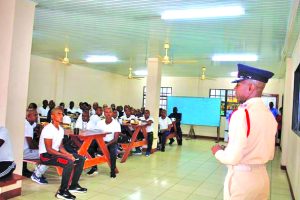 Chief Fire Officer (ag) Gregory Wickham on Friday met with the recruits during a visit to the Leonora Training School. Wickham, in addressing the recruits, encouraged them to be mentally, physically, and spiritually strong to endure the training and be successful.
He emphasised the importance of maintaining discipline and unity within the Service, noting that there is no room for racism or favouritism at the training facility.
The new batch of recruits comprises 38 males and six females from various parts of the country.
The training commenced on Monday and was scheduled to be completed within the next three months.
This is the first batch of trainee firefighters recruited since the pandemic began in 2020. In May of 2020, 40 trainee firefighters tested for COVID-19 before starting a 12-week training at the Guyana Fire Service Training School in Leonora. Upon completion of the programme, the recruits served at the fire stations in Lethem, Mabaruma, and Mahdia, which were commissioned in 2021. Those firefighters were trained in the correct use of hoses and hydrants, rescuing skills, construction of buildings, teamwork, and other basic techniques.