— UNDP Rep lauds Guyana's successful leadership of G77 and China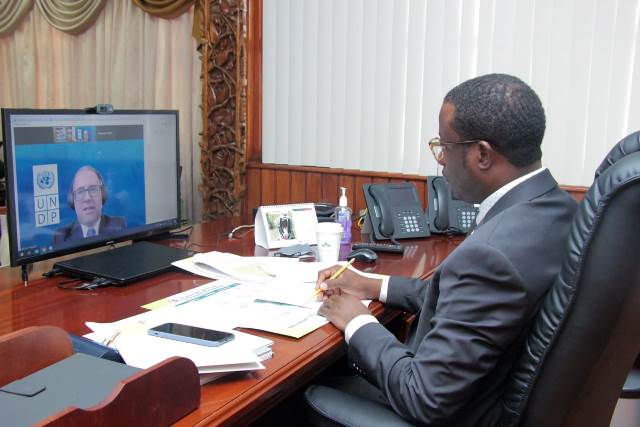 Foreign Affairs and International Cooperation Minister, Hugh Todd on Saturday virtually had a meeting with United Nations Development Programme (UNDP) Resident Representative, Jairo Valverde.
During the meeting, the UNDP Resident Representative extended congratulations to the Co-operative Republic of Guyana for its successful Chairmanship of the G77 + China throughout 2020.
Further, he thanked the Government of Guyana for the opportunity to collaborate on Guyana's Chairmanship of the G77 + China. Noting the challenges posed by COVID-19, Valverde lauded the efforts of the staff of the Ministry to organise and produce the virtual flagship event on climate change held under the theme "Maintaining a Low Carbon Development Path towards the 2030 Agenda in the Era of COVID-19".

"We are honoured to have been able to hold the Chairmanship of the Group of 77 and China (G77 + China)", Minister Todd stated.
Further, the Foreign Affairs Minister emphasised the role of His Excellency Dr Mohamed Irfaan Ali, in leading the charge of the flagship event. "The outcome of the event speaks directly to his leadership and contribution to the Chairmanship of the G77 + China," Todd added.
According to the Minister, the technical support provided through Guyana's partnership with the local UNDP office proved instrumental in the success of Guyana's Chairmanship.
Minister Todd also commended the commitment and efforts of the Permanent Representative of Guyana to the United Nations, Ambassador Carolyn Rodrigues Birkett, her team, and the staff of the Ministry.
They also discussed financing for small states in light of the ongoing COVID-19 pandemic, the reclassification of Caribbean economies, among mutual areas of interest.
Guyana will officially hand over the Chairmanship of the G77 and China to the Republic of Guinea today, Monday, January 18, 2021.
The UN continues to be a strong and trusted development partner of Guyana that has aided in the promotion of the implementation of the global development agenda in the country.