The Guyana Government has signed an Air Services Agreement with the Kingdom of Saudi Arabia to promote and facilitate the expansion of international air services opportunities between the two countries.
Guyana is currently represented at the Future Aviation Forum 2022 in Saudi Arabia among 60 countries and 2000 participants. Public Works Minister Juan Edghill is accompanied in Riyadh, Saudi Arabia, by the Guyana Civil Aviation Authority's Air Transport Management Director, Saheed Suliman.
On Monday, the Saudi Minister of Transport and Logistic Services, Saleh Al-Jasser opened the forum which is organised by General Authority for Civil Aviation in Riyadh. The conference focuses on three main aspects: innovation, growth and sustainability in the civil aviation sector.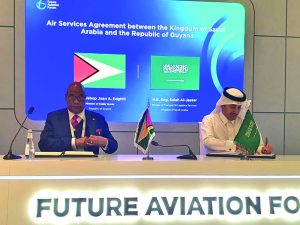 "The event will witness signing of over 50 Agreements and Memorandums of Understanding in addition to launching several important policies and strategies for the civil aviation sector, and the signing of a large number of partnerships between the public and private sectors," the Public Works Ministry announced on Monday.
Presently, there is no direct flight operating between the two countries. With the new document, airlines can now ply the route, thereby widening connections, trade and economic growth.
Within the past two years, Guyana and Saudi Arabia have intensified their collaboration and continue to enjoy cordial and mutually beneficial relations. In February, a visiting delegation led by the Minister of State for Foreign Affairs and Member of the Saudi Arabia Council of Ministers, Adel Ahmed al-Jubeir was engaged by President Irfaan Ali. The Foreign Affairs and International Cooperation Ministry had said that it would "serve as an impetus for the further enhancement of relations between the two countries."
Apart from putting Guyana on the global map, the new oil industry has created a ripple effect for investments in various sectors and from wide-ranging international partners. In aviation, the country has managed to sign pacts with several new carriers, some of which have already commenced operations to new destinations.
Last year, seven airlines signalled their interest in operating here: FlyAllWays, InterCaribbean Airways, One Caribbean Limited, Jetair Caribbean, Skybus Airlines, Sky High Aviation Services and Guyana Rotorcraft Services Inc.
InterCaribbean Airways Limited, based in the Turks and Caicos Islands, and FlyAllways received Cabinet approval to operate locally. FlyAllways, which is Surinamese-owned, was also granted approval to operate in Guyana.
A few months ago, the Government signed an open skies agreement with Colombia, while also promising to fast-track the signing of a similar agreement with Nigeria that had been in limbo since 2014.
Last week, Chinese Ambassador to Guyana Guo Haiyan told <<<Guyana Times>>> that airlines should seek to make travelling between the two countries more convenient. Eventually, the Chinese Ambassador hopes that as demand grows, there will be an increase and easier access to flights between the two countries.
The Cheddi Jagan International Airport was expanded with other modernisation works carried out by China Harbour Engineering Company (CHEC), in preparation for this massive influx of new carriers and increased travel activity.
When the Government entered office, there was a list of 71 critical works and a master list of 1500 works that were incomplete. Back in December, the Public Works Ministry had entered into an agreement with CHEC for the contractor to undertake some US$9 million in additional works to further extend the airport at no cost to the State.