…over 7 Heads of State to attend
…with 70 small agro-processors on board
Guyana has taken a lead in driving the region's agri-food agenda, and the flagship Agri Investment Forum and Expo slated for next week has already accumulated attention from foreign investors.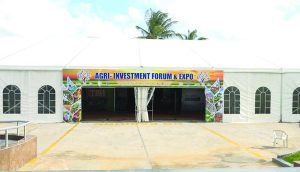 The inaugural event is set for May 19 to 21, 2022, at the Arthur Chung Conference Centre, Liliendaal, Greater Georgetown.
During an inspection of the expo site on Monday, Agriculture Minister Zulfikar Mustapha divulged that over 300 investors and participants have already registered. Most of them are overseas-based but locals are now getting on board.
Some 70 exhibitors are already on board, having secured their booth, but the aim is to have 100. Additionally, approximately 70 small Guyanese agro-processors will be part of the event.
"We are moving very effectively. Almost all the booths are in place. To date, we have close to about 300 organisations and investors who have already registered and most are from overseas. Now we are seeing a number of Guyanese being registered. I'm hoping by the end of registration, we will have a lot of investors and persons who would be participating," he told media operatives.
He added, "There are a number of small agro-processors who wants to come on board. As the time comes closer, the interest is building up. We are seeing more and more people coming on board to register."
Apart from local input, investors will be arriving from as far as Israel, Ghana, Cameroon, Canada and the United States among other nations, to be a part of the exposition.
"This investment forum will be the first of its kind in Caricom and the response that we have received so far has been massive. It shows that the Caribbean needs something like this. It will be the first of its kind in this part of the region and will be continuous, where we can always have investment," Mustapha also noted.
In addition, seven Heads of State in the Caribbean Community (Caricom) have indicated their participation, along with several regional Ministers of Agriculture. The region has taken a position to reduce its food import bill by 25 per cent by 2025 – a feat that can be achieved through such initiatives.
"You can see the importance of this event to Caricom because they recognise that this is forum that will not only create investment for Guyana but the Caribbean."
Partnering with the Agriculture Ministry to execute the expo is the Private Sector Commission and other private sector bodies. Chairman of the PSC, Paul Cheong asserted that while oil is a depletable resource, agriculture is sustainable and makes use of the advantageous climate that Guyana possesses.
"We think it is something that is going to push the agriculture sector in Guyana. We know the huge potential that we have with the large amount of arable land, fresh water and sunlight. We're confident that this now will drive the agriculture sector. This is all in line with what is happening in the country in general. A lot of focus has been on Guyana in the last couple of years and agriculture is just one of the sectors," Cheong expressed.
Back in March, President Dr Irfaan Ali had announced a US$100 million (GY$20.7 billion) Special Concessional Financing Package geared at helping to transform agriculture in the region which is aimed at reducing the region's food import bill by 25 per cent by 2025.
He was at the time addressing the 33rd Inter-Sessional Meeting of the Conference of Heads of Government of Caricom in Belize.
The President had stated that there had been concrete progress in access to financing for agriculture investment, financing through a facility called the Caricom Sustainability Agriculture Credit Facility (the "Credit Facility"), using Republic Bank Limited as a lender.
This is a special facility designed for agriculture activities including, but not limited to, development of priority crops, capital equipment for farming, feeder roads to provide access to arable lands, bulk storage for crops, processing plants and shade house farming.
This provides funding for up to five years for repaying up to GY$2 billion to Guyana and US$100 million to all Caricom member states, with interest rates as low as 2.5 per cent.