Minister of State, Dawn Hastings-Williams on Sunday extended gratitude on behalf of the Government and people of Guyana to the United States Air Force New Horizons team, which has built three community centres, one women's shelter and provided health services to 13, 346 persons during their exercise here from May to August 2019.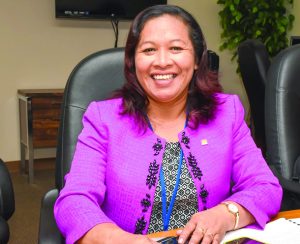 Speaking at a simple thanksgiving ceremony held by the Gonsalves family at their Republic Gardens, East Bank Demerara home, Minister Hastings-Williams said that the team has done well and has the gratitude of a nation.
"The New Horizons medical outreaches to the Guyanese people are very much appreciated. In 2009, the Bel Air Nursery School and East La Penitence Health Centre were built in Georgetown by the team. This year, the team conducted training and made new impacts in new communities, recording 13,346 patient encounters during their medical outreaches," she said.
The New Horizons exercise seeks to train US military civil engineers and medical professionals, who work alongside Guyanese military and health professionals in joint humanitarian assistance exercises.
Head of the contingent remaining in Guyana, Colonel Kenneth Bratland, in his remarks, said that this year, the team worked in Linden, Port Mourant, New Amsterdam and Georgetown, constructing three community centres in Linden and Yarrowkabra and one women's shelter in Linden. The group also provided medical care, including ophthalmologic care and surgery.
During their time here, the team also provided training and transfer of knowledge to their local counterparts from the Guyana Defence Force (GDF), the Public Health Ministry and several health institutions including the Linden Hospital Complex, where they were able to perform 39 surgeries using 129 different techniques.
He noted that while the team worked hard, the hospitality and warmth of the Guyanese people must also be acknowledged since it helped to make the mission even more successful.
Hostess for the event, Mildred Gonsalves, who opened up her home to the team, said that she felt that the team should be thanked for the exceptional service they have provided to the country and as such, the event was organised.
New Horizons is an annual US Southern Command training and humanitarian exercise that is led by the Twelfth Air Force (Air Forces Southern) in various countries in Latin America and the Caribbean. Guyana previously hosted successful New Horizons exercises in 2004 and 2009.