The Central Housing and Planning Authority (CH&PA) under its Adequate Housing and Urban Accessibility Programme will facilitate a major upgrade in Sophia, Greater Georgetown by constructing core houses and roads among other infrastructure.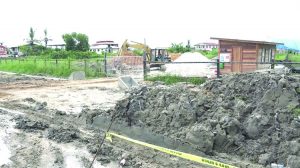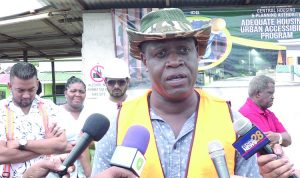 On Friday last, officials of the CH&PA gave members of the media a tour of B Field Sophia where works were currently ongoing. Its Chief Executive Officer (CEO), Leon Saul listed the works to be completed.
"We would be spending approximately US$7.5 million here in (the) Sophia area and basically what we are doing, we would be upgrading approximately 12 kilometres of roads to asphaltic concrete. We will be doing concrete drains, two playfields will be upgraded; additionally 2000 residents will benefit from home improvement subsidies and 100 core houses will be built," Saul stated.
The CEO was keen to note that this year, 50 of the core houses are expected to be completed while 300 home improvement subsidies will be distributed. The remaining houses and home improvement subsidies will be done in 2020.
Home improvement subsidies and core houses will be granted to low-income households – those persons who earn $75,000 or less per month and own a plot of land within the project boundary that is also low income, meaning it cost $300,000 or less.
Subsidies will be approved if the homes that are occupied are considered inhabitable. However, if the houses are not strong enough to accommodate repairs, the owners may qualify for a core home.
Once qualified, the applicant would be required to pay $100,000 as a contribution towards the core home. The core houses are 400 square-foot flat concrete buildings that cost $4 million.
For home improvement subsidies, $500,000 worth of materials will be granted and recipients will have to provide for labour.
The Deputy Director for Community Development, Donell Bascom explained that thus far, 456 verification visits were conducted in Sophia while 87 households were inspected which would have been dubbed eligible to qualify for a core house.
"By the end of August to mid-September, we will be able to complete the beneficiary selection process and have persons notified of the outcome of their applications from Sophia," Bascom stated.
She added that this project was special as it provided employment for residents of the community.
Meanwhile, Anthony Ragnauth, another officer attached to the CH&PA, detailed the scope of works to be conducted. It was noted that the project has been divided into six lots. These lots have already been awarded to six different contractors via the National Procurement and Tender Administration Board (NPTAB).
Ragnauth told the media, "Presently, the works are ongoing. We had some delays with the weather which affected mostly the road works; nevertheless we have gone ahead with the construction of culverts, reinforced concrete drains, revetments and out of the eight bridges that are slated to be constructed, we have completed two."
The community works are slated to be completed by March 2020. Already, members of the community have lauded the positive change that they have noticed and expressed their willingness to work with the contractors to see the project's speedy completion.
The first Adequate Housing and Urban Accessibility Programme, which provides an opportunity for Guyanese citizens to improve their standard of living, was launched back in January 2019 at C Field, Sophia.
The project became a reality as a result of the collaboration between the CH&PA and the Inter-American Development Bank (IDB), which is funding the project.