The Guyana Judo Association (GJA), the International Judo Federation (IJF) and all Judo fraternities across the globe will be celebrating the fifth annual World Judo Day on October 28.
Judo is the third highest ranking sport in the Olympics, following Athletics and Swimming. World Judo day takes place on the same date every year, on October 28, because it is the birthday of Jigoro Kano, who is the founder of judo.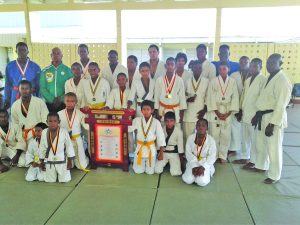 Judo has a number of values which signifies the hallmark of human social development; respect, courtesy, courage for what's right, sincerity, honour, modesty, self-control, loyalty, friendship, gratitude and principle of equality among others.
Among the medical benefits, judo aids in the management of the disease asthma, and is recognized and recommended for children because it improves their self-esteem and reduces the feeling of suffering a chronic illness. Also other sports acknowledge the importance of learning how to break your fall. This type of learning from infancy allows future application in other sports like Rugby, cycling, football, riding or motorcycling, among others. The basics of judo can prevent a lot of injuries.
The Guyana Judo Association wants to celebrate World Judo Day here by calling on all who are involved in the beautiful sport; coaches, fans, judokas and everyone with a passion for one of the world's most widely practiced sports to get involved to help spread unity across our nation through the sport of judo. It is also an opportunity for judo lovers to share experiences and promote the sport in their community through activities such as demonstrations and educating the masses about the importance of Judo as a form of martial arts.
The president and executives of the Guyana Judo Association would like to extend world judo day wishes to all of Guyana and we would like to encourage you to get on board and be a part of the judo family.