– unavailability of referees  hampers Georgetown leg resumption
The Guyana Football Federation (GFF) NAMILCO Thunderbolt Flour Power National Under-17 League continued on over the weekend, with a series of exciting matches across various associations.
On Sunday in the East Demerara Football Association (EDFA), Bachelor's Adventure/Paradise Sports Club defeated Victoria Kings 3-0 at the Golden Grove Ground.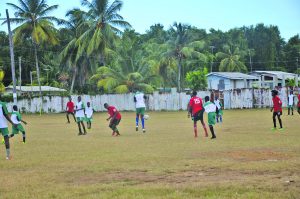 Talented forward, Teshawn Gordon opened the scoring for his team, when he netted in the 40th; ten minutes later Shemar Noel doubled the lead with a powerful shot from the 18-yard box.
The third goal was due to teamwork, as Gordon made a valiant run from the midfield, passing to Collin Hendricks, who dinked the keeper inside the box to score in the 70th minute, adding the icing to the cake to a dominant performance by his team.
The second match between Buxton United and BV/Triumph United FC was another one-sided affair with the former winning 4-0. Buxton's player makers were Kobe Durant and Isaiah Anderson, who helped themselves to doubles. Durant continued his goal scoring form, netting in the 39th and 60th while Anderson scored in the 49th and 75th.
On Saturday at the same venue, Plaisance defeated Buxton Youth Developers by a 2-0 score line in the feature affair of the slated doubleheader. Azandi King and Keiron Haymer sealed the result as they found the back of the net in the ninth and 63rd minute.
On the other hand, Ann's Grove downed Buxton Stars by an identical margin through goals from Granton Mentis and Shamar Brandon in the 67th and 70th minute apiece.
Meanwhile, the Georgetown Football Association (GFA) leg of matches which was set to resume on Saturday, was halted since there were no referees available to officiate the four matches at the Tucville ground.
A spokesperson for the Association explained that "notice was sent to the GFF concerning the resumption of the matches but was told that the referees were unavailable".
The representative is hopeful that the coming weekend, the matches will be played at the aforementioned venue.
Title sponsors NAMILCO,   have  been urging both players and  persons at large to  live a healthy lifestyle by indulging in the usage of its heath oriented products Maid Marian Harvest High Fibre Whole Wheat Flour, Maid Marian Wheat-Up Breakfast Porridge, and Maid Marian Multigrain Flour among many other products.