…as Mottley re-elected PM in landslide victory
Barbados Prime Minister Mia Mottley has stormed to victory and her second term in office in the Barbadian General Elections, prompting congratulations from Guyana's President, Dr Irfaan Ali.
Barbadian voters bought into the philosophy that they are "safer with Mia" and re-elected the ruling Barbados Labour Party (BLP) into Government. The BLP, led by Prime Minister Mia Mottley, was elected in its second consecutive clean sweep of the 30 seats in Parliament.
In a letter to the victorious PM, President Ali explained that her re-election provides an opportunity to concretise the plans that they have discussed to improve cooperation between Guyana and Barbados.
"I look forward as well, to our continued collaboration at the regional level, as we endeavour to advance our integration process and to secure the benefits that our people deserve," President Ali said in his correspondence.
Meanwhile, the People's National Congress Reform (PNCR) sent out a statement congratulating Mottley on her victory. According to the PNCR, which is led by Aubrey Norton, they have "productive association" with the BLP.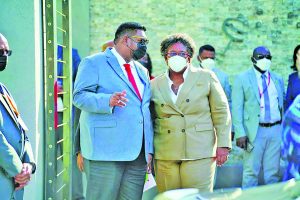 "The mandate you have received from the people of Barbados is a clear indication that you are in touch with the people and your policies have redounded to the benefit of the people," PNCR said in their statement.
"The PNCR has long enjoyed a productive association with the BLP and we are therefore confident that this relationship will be strengthened as we both work for the betterment of our peoples and the improvement of the Caribbean Community."
The results showed that the BLP won all the seats in the snap elections, which Prime Minister Mottley called 18 months ahead of the constitutional deadline. This makes the BLP only the second political party in the Caribbean to sweep all the seats in an election on consecutive occasions.
The only other time that was achieved was in Grenada when Prime Minister Dr Keith Mitchell led his New National Party (NNP) to victory, winning all 15 parliamentary seats in 2018.
Mottley ended up winning seven out of eight victories in the St Michael North East constituency, easily defeating the Democratic Labour Party (DLP) candidate, Damien Griffith by a margin of 3216 to 476. Roy Turney of the BFP polled 48 votes.
Mottley has achieved mass global recognition especially for her work highlighting the threat from rising sea levels to small islands around the world, having won the United Nations' (UN) highest environmental honour for her work.
Mottley also played a critical role in defending democracy in Guyana during the 2020 elections. PM Mottley brokered an agreement with then President David Granger and then Opposition Leader Bharrat Jagdeo, to have a high-level observer mission sent to Guyana to observe the national recount of the ballots of the March 2 General and Regional Elections.
The team – comprising Deputy Supervisor of Elections of St Vincent and the Grenadines, Sylvester King; Senior Lecturer in the Department of Government at the University of the West Indies (UWI), Cynthia Barrow-Giles; and Commissioner of the Antigua and Barbuda Electoral Commission, John Jarvis – observed the recount of the votes and compiled a report attesting to the veracity of the elections and recount results. (G3)