…President Bolsonaro to visit Georgetown today
President Dr Irfaan Ali on Friday travelled to neighbouring Suriname for a high-level meeting with his colleague Heads of State, Surinamese President Chandrikapersad Santokhi and Brazilian President Jair Bolsonaro.
The three leaders met for a working lunch at the Torarica Hotel in Paramaribo during which they discussed enhancing cooperation in a number of areas, including infrastructure, trade and energy.
Guyana, Suriname and Brazil are exploring the formation of an energy corridor and are also looking to collaborate in the oil and gas sector.
According to the Office of the President's Press and Publicity Unit, talks between the three neighbouring nations will be advanced at the ministerial level in the coming months.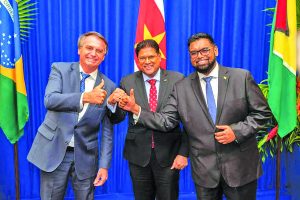 During the working visit, President Ali was accompanied by Agriculture Minister Zulfikar Mustapha; Foreign Affairs and International Cooperation Minister Hugh Todd; Public Works Minister Juan Edghill; Natural Resources Minister Vickram Bharrat and Head of GO-Invest, Dr Peter Ramsaroop.
Meanwhile, President Bolsonaro and a team of officials from Brazil are expected to travel to Georgetown today for a special one-day visit with President Ali and his Cabinet Ministers.
Those discussions will centre on improving economic relations, energy and food security, telecommunications, agriculture, infrastructure integration and the development of a deep-water harbour in Guyana.
It was noted that since Guyana offers the shortest and quickest access to the Atlantic for significant parts of northern Brazil, a road connection linked to the deep-water port could also serve the interest of both countries.
Last week, the two Heads of State spoke via a teleconference about enhancing the partial scope agreement between Guyana and Brazil with the hope of bolstering trade. They also discussed the agenda for today's high-level visit by President Bolsonaro.
During that conversation, President Ali indicated to his Brazilian counterpart that Guyana wants to have a very strong strategic partnership with the Portuguese-speaking nation.
"We have a number of important issues and opportunities for both Guyana and Brazil that I wanted to highlight even before our meeting, so our technical teams can start some work," President Ali said in a missive from his Press and Publicity Unit.
The Head of State had pointed out that due to their geographical locations, Guyana and Brazil must make strong statements in linking their territories.
He noted that in addition to oil and gas, expanding opportunities in the other non-oil natural resources sector such as bauxite will create an opportunity for a direct link to northern Brazil and the Atlantic that can "create an excellent platform for us to develop an integrated project".
As it relates to trade, currently, there is an existing partial scope agreement that aims to foster bilateral trade flows by the exchange of tariff preferences between the two countries, cooperation on trade matters and increased participation of the Private Sector.
This, President Ali said, is currently under negotiation to be expanded since Guyana wants to increase its quota, especially as it relates to rice being exported to Brazil.
President Bolsonaro, via an interpreter, said that the agenda for discussion looks "very promising" and that he will ensure that technical staff from the relevant Ministries in Brazil travel for the State visit.
It is expected that the Linden to Lethem road connectivity will be a key link between Guyana and Brazil with the potential to boost trade.
The Guyana Government has been pushing to have the contract signed for the first phase of the US$190 million project which will see the construction and upgrading of 121 kilometres of road from Linden to Mabura Hill.
In December 2020, the Caribbean Development Bank (CDB) had approved a US$112 million loan for the project, which is also being funded by a £50 million grant from the United Kingdom Government through the CDB-administered United Kingdom Caribbean Infrastructure Fund; and a contribution of US$12 million from the Government of Guyana.
Last October, Public Works Minister Juan Edghill disclosed that Government is "pushing heavily" to have the process move along. He noted that the prequalified contractors were evaluated and sent to the bank for final approval.
According to the Minister, once approval is given, the contractors will be invited to submit their financial proposals from which a company will be selected.
Meanwhile, after decades of talks, Guyana is finally moving apace with the construction of a US$130 million deep-water harbour in Berbice, Region Six (East Corentyne-Berbice).
Canadian-owned company CGX Energy Incorporated, which only recently started drilling for oil in the Corentyne Block offshore Guyana, is executing the project in the Berbice River.
CGX had disclosed last year that its subsidiary Grand Canal Industrial Estates Inc (GCIE) had been engaged in civil works related to the construction of the Berbice Deep Water Port (BDWP).
The construction of the port is being done on 30 acres of land on the eastern bank of the Berbice River, adjacent to Crab Island.
Only last month, President Ali commissioned the access bridge linking the port site to the eastern bank of the river at Palmyra, Berbice.