Recognising renewed support and collaboration between Guyana and Australia, President Dr Irfaan Ali on Tuesday accepted the letter of credence from the new High Commissioner of the Commonwealth of Australia to Guyana Sonya Koppe.
Ali assured the High Commissioner that Guyana is aligned with many of the policies and programmes that Australia promotes and called for stronger cooperation between the two nations.
Guyana is undergoing a period of transformation and is building an ecosystem to support the country's quest to become a global leader in climate, energy and food security, the President added.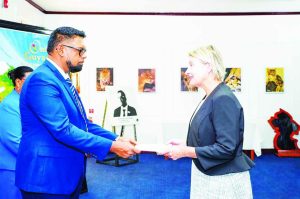 As such, the Government is mobilising support for the country's standing forest and will ensure that the forest plays a central role in climate change mitigation.
Guyana's Low Carbon Development Strategy 2030 keeps maintenance of its forests as a core value, striving to address forest climate services, biodiversity and water management as well as the potential of integrating with the emerging voluntary carbon markets.
The strategy also seeks to create a model to grow the economy and keep energy emissions flat, protect the coast and hinterland from climate change, create jobs in low-carbon sectors and integrate Guyana's economy with its neighbours.
Minister of Foreign Affairs and International Cooperation, Hugh Todd and Permanent Secretary of the Ministry, Ambassador Elisabeth Harper were also at the Tuesday event.
Guyana and Australia formally established diplomatic relations in 1973.
Koppe assumed her role as Australia's High Commissioner to Trinidad and Tobago in March and will serve in the Caribbean until 2026, and is accredited to not only Guyana but also Antigua and Barbuda; the Bahamas; Barbados; Belize; Dominica; Grenada; Haiti; Jamaica; St Kitts and Nevis; St Lucia; St Vincent and the Grenadines; Suriname and the Caribbean Community (Caricom).