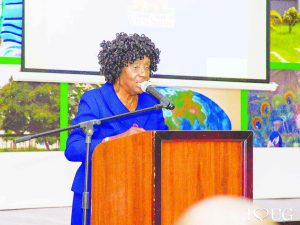 Aimed towards advancing knowledge of Caribbean terms and languages, the school edition of the "Dictionary of Caribbean English Usage" was launched on Tuesday during the University of Guyana's (UG) Second Diaspora Conference.
The book was edited by linguistics lecturer at University of the West Indies (UWI) and former UG lecturer, Dr Jeannette Allsopp alongside Dr Wendy Griffith-Watson, a linguist and former Chief Education Officer in Barbados.
"The appearance of a Caribbean English school dictionary is certainly a landmark in Caribbean lexicography because it is the first of its kind and it reflects the Caribbean environment – lifeways, customs, traditions, artefacts, cooking utensils, architecture, music, dance, dishes, folklore, festivals, religions, organisations, national orders, national symbols, etc."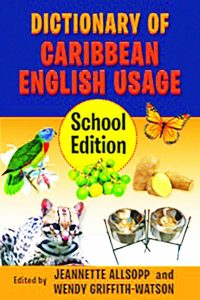 This school edition serves as a continuation of Allsopp's first "Dictionary of Caribbean English Usage," edited by her late husband Dr Richard Allsopp and released in 1996.
"The original dictionary was published 27 years ago in 1996. It is a very linguistically sophisticated book full of linguistic details and therefore, inaccessible to most teachers [and] students," Allsopp said during the book launch. "As [my husband and I] consulted with each other, we said we would have to do a school edition sometime in the future."
After many years, job roles and even other book launches, this school edition has finally come into fruition, with Allsopp describing it as a "thematic dictionary."
As such, the material is divided by themes to ensure that students can relate various lexical items to a particular topic in order to absorb the information more easily.
Allsopp shared that the arrangement of the dictionary entries includes the head word in bold and its part of speech in italics, followed by its territorial labels as a term may have different meanings across the country, its definition, other names, encyclopaedic information, etymology as well as a pictorial illustration.
The dictionary also includes lists of Caribbean acronyms, Caribbean organisations, national symbols and dictionary skills as well as a general section that deals with terms related to different industries, machineries and even utensils.
"All these items reflect our linguistic and cultural heritage because language is culture and if you don't record and chronicle your language, you're not recording your culture and it is crucial this culture be recorded for posterity," Allsopp said.
Allsopp distributed a copy of the dictionary to UG Vice-Chancellor Paloma Mohamed-Martin, who commended her efforts and assured its usage within the school.
Copies were also given to representatives from the UG Library, the National Library and the Guyanese Languages Unit.
Published by UWI Press, a release date for the official sale of the book has not yet been revealed but attendees interested were encouraged to place an order if they wished.
The UG Diaspora Conference will continue until Wednesday and marks the university's 60 years in existence, engaging with academics and professionals from the major capitals in the world with large Guyanese Diaspora presences in a variety of discussions.