…calls on extension officers to be more responsive
Effects of climate change on agriculture will require an approach that incorporates technology and modernised practices, if Guyana is to achieve its regional targets.
This was announced by Agriculture Minister Zulfikar Mustapha on Tuesday as he addressed some 250 agriculture extension officers from all ten administrative regions during a training exercise in order to improve services to farmers across the country.
An example is the fluctuation and higher volumes of rainfall detected as opposed to some years ago. To this end, the Minister asserted that extension officers will have to become more responsive in advising farms on best practices and adaptation.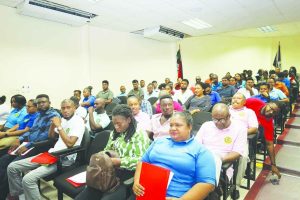 He positioned, "We now have to be more aggressive, more responsive, more reorganised and result oriented. Those are the things we have to achieve as extension officers. We have to encourage the establishment of modern farms, increased use of technology and more efficient farm practices."
Infrastructure is also being modernised to match this pace, ranging from farm to market roads, improved irrigation, new laboratories and processing facilities. Millions has been injected in the Hydrometeorological Services to improve forecasting as well and very soon, farmers can expect better weather forecasts with the installation of equipment across the country.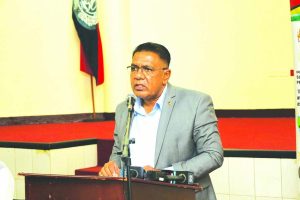 "We are looking at different areas across the country to put in these weather equipment so that we can have proper forecasting, not only around Georgetown and urban areas but places like Region Nine, Region One, Region Eight so that farmers in those areas can have the same kinds of benefit," he explained.
Aligned with the efforts to boost local agricultural produce and value-added commodities is the strides to increase transportation mechanisms.
"Being cognisant of accelerating agricultural production and boosting interregional trade, the Government of Guyana has created an enabling environment that will strengthen the agri-food system. As such, there has been an increase in both public and private investments in the agriculture sector."
The need for a robust and coordinated extension system was called for so as to improve access to farmers and rural stakeholders. As such, the extension officers were urged to showcase greater proactivity to extend their reach to farmers in need of assistance.
"This system should be equipped with the latest technologies and knowledge to ensure that farmers are aware of the best practices and methods to enhance their productivity and profitability. There should be a focus on educating farmers and rural families on the importance of adopting sustainable agricultural practices and most cost-effective techniques," Mustapha told the officers.
In light of greater emphasis being placed on the extension system, the Agriculture Ministry is taking steps to reform existing operations. A plan for transformation has also been put forward for every region and boundaries have been determined for 31 extension districts within the 10 regions.
The Government official underscored that extension officers serve as the initial link between the Government and farmers, and consequently, extension services should be delivered in a way that the Government's policies and vision for the sector can be achieved.