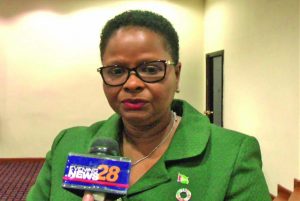 With the need for adequate and quality healthcare becoming more crucial, the need for more skilled human resources to deliver these much-needed services to individuals increases.
It was since revealed that the country's Public Health Sector currently lacks some 550 trained nurses to better distribute medical care at health facilities throughout the country. This disclosure was made by Public Health Minister Volda Lawrence who presented the feature address at the opening ceremony of the second Nurses' Training Annex located at the Critchlow Labour College, Woolford Avenue, Georgetown.
Minister Lawrence underscored that the statistics were revealed to her by Chief Nursing Officer Linda Johnson; nevertheless, Lawrence noted that the second annex will fill the gaps.
"We envisage that this Annex II will certainly boost our capacity to provide more training and enable the development of a competent workforce to fill the gaps and eliminate our deficiencies," she explained.
This new facility falls directly under the Public Health Ministry's Health Science Education Division, as it now complements the existing Georgetown School of Nursing situated at Kingston and contributes to the outputs from the New Amsterdam and Charles Rosa School of Nursing.
Furthermore, it presently has 90 students enrolled: 88 females and two males, 30 of whom are on the Registered Nursing (RN) Programme and 60 on the Nursing Assistant Programme.
Only in 2018, Minister Lawrence announced plans to increase student intake as Guyana, at the time, needed approximately 1000 nurses— an issue which has reached the level of the World Health Organisation (WHO).
"We have to do that in order to ensure we can fulfil our requirement. Right now, we need about 1000 nurses in the system. We're also inviting persons to come into the Ministry. If you're a retiree, you have a skill to offer and so on, and we can put you at a different level to work within the system," she told media operatives at a Medex[KM1] programme launch in 2018.