President Dr Irfaan Ali said that the Government of Guyana is committed to supporting the Global "Save Soil" movement.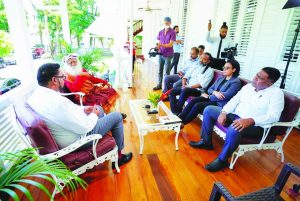 The President gave this assurance during an engagement with world-famous yoga guru and spiritual master, Jagadish Vasudev, known as Sadhguru, at State House on Friday afternoon.
Ali told Sadhguru that Guyana is willing to work towards becoming the home of the "Save Soil" Movement and is committed to providing land to start a pilot project.
Sadhguru was accompanied by world-renowned Soca artiste and ambassador of the Movement, Machel Montano.
In March of this year, Guyana's Government inked a Memorandum of Understanding (MoU) with the Isha Foundation, which is one of several Caribbean countries that is supporting the Save Soil Movement.
Sadhguru was in Guyana in March, where the framework was signed at State House during a reception hosted by President Ali.
Sadhguru is leading a global effort called the Conscious Planet—which, among other things, promotes awareness of soil degradation through the Save Soil Movement. The movement is geared towards inspiring people to support policy redirections to safeguard, nurture and sustain soil and drive national policy changes in 193 nations toward raising and maintaining the organic content of the soil to a minimum of three to six per cent.
At an event hosted at the National Cultural Centre subsequent to the signing, he shared, "Soil depletion may come to such a point where people may try to transport food to feed people but if people are not growing food where they are living, at least 60 per cent of it, you are sitting on a potential disaster. It is great today that the Caribbean nations are focusing on that direction. In the Caricom region, everybody is thinking in terms of how we must be producing the food that we need."
This is the second time Sadhguru has visited the Caribbean region.
Montano became an ambassador of the Save Soil Movement during his journey to greater spirituality and awareness, where he completed a seven-month Sadhanapada programme at the Isha Yoga Centre in India, under the tutelage of Sadhguru.
Save Soil will address the soil crisis by bringing together people from around the world to stand up for soil health, and supporting leaders of all nations to institute national policies and actions toward increasing the organic content in cultivable soil.
At Friday's meeting in Guyana were Agriculture Minister Zulfikar Mustapha, Minister within the Housing and Water Ministry Susan Rodrigues and Director of Projects at the Office of the President Marcia Nadir-Sharma.