– as St Lucia offers Guyana assistance with tourism &
hospitality sector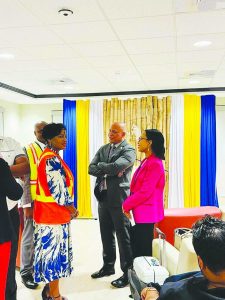 Tourism, Industry and Commerce Minister Oneidge Walrond is currently in St Lucia for a two-day official visit, and among the things she will pursue is greater bilateral partnerships between the two countries.
During the ceremony to mark British Airways' first flight to Guyana, Minister Walrond spoke of her impending visit to St Lucia. She explained that the launch of the flight represented more than a direct flight between Guyana and the United Kingdom. It also represented increased opportunities between Guyana and St Lucia.
"The introduction of this flight also represents opportunities for partnerships. This evening as I leave for St Lucia, reciprocating the support that St Lucia family is showing us today, we will examine while there are opportunities for greater collaboration that may arise from sharing this route."
"Because not only does this flight open travel between the UK and our respective nations, but it also presents opportunities for travel between St Lucia and Guyana, as we seek to boost our inter-regional tourism," Minister Walrond said.
Minister Walrond noted that both countries have attractive tourism options for their citizens to enjoy, such as St Lucia's Jazz Festival and Guyana's Rupununi Rodeo in Region Nine, and the Cricket Carnival.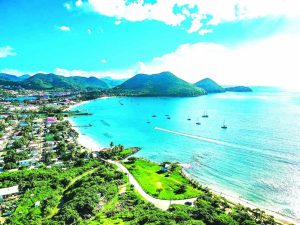 "We have additional options for Guyanese wishing to experience the St Lucia Jazz Festival. Similarly, it will also promote our local events such as the Rupununi Rodeo and the Cricket Carnival to the St Lucia market."
"Recognising the potential, we have begun tourism twinning with St Lucia, combining two distinct appealing experiences and bringing the best of two worlds into one package," the Minister further said.
St Lucian counterpart
St Lucia's Minister of Tourism, Dr Ernest Hilaire, was also present in the audience at the Cheddi Jagan International Airport (CJIA) on Monday. With St Lucia's renown as a tourism destination, Hilaire noted that there is much his country can share with Guyana on the sector.
"St Lucia has a lot it can share with Guyana, as it relates to tourism and hospitality. We are the leading destination for honeymoons. And the Caribbean leading destination for adventure. But when we speak of adventure, I don't know that anywhere in the Caribbean can match what Guyana has to offer."
"So, we've developed a product in St Lucia. And we certainly look forward to working with you. We've met with your Minister. And I'm sure that under the leadership of your Minister, Guyana tourism will go very very far."
Hillarie recalled that in the 50s and 60s, many St Lucians came to Guyana to earn a living, while in the 70s and 80s many Guyanese went to St Lucia to do likewise. The relations between Guyana and St Lucia, therefore, have always been strong and according to Hilaire, can only grow stronger with the direct flight.
"I cannot recall there has ever been a direct flight from Guyana to St Lucia. So just as this is a milestone for you, the flight returning is a milestone for St Lucia. And we're really grateful to have this gateway between Guyana and St Lucia," Hilaire said.
"We need to start thinking about multi-destination marketing. So, you can come to Guyana, stay in St Lucia. You can come to St Lucia and come over to Guyana, with the ease that this flight offers. So, I'm really pleased… I look forward to the strengthening of the bonds of friendship and solidarity between Guyana and St Lucia."