…all nations must embrace low-carbon pathway – President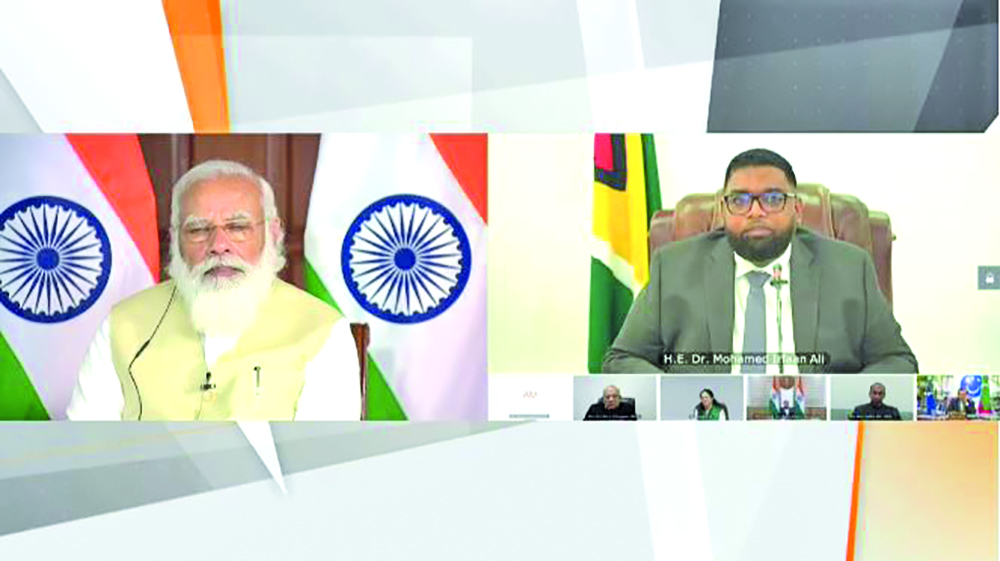 Guyana has re-engaged the Indian Government through The Energy and Resources Institute (TERI) to provide technological support in several sectors that will drive its achievement of the Sustainable Development Goals 2030.
President Dr Irfaan Ali made this announcement during his address to the World Sustainable Development Summit on Wednesday, an annual flagship event of TERI. He explained that this would aid in responding urgently to climate change and sustainable living – a goal which all countries should strive for.
"I am pleased to announce that my government has re-engaged TERI to provide technological support in several areas including renewable energy and key productive sectors, including agriculture. These opportunities need to be upscaled if we are to respond with the urgency and boldness required to address climate change, sustained livelihoods, and protect the environment," Dr Ali told the Summit.
To achieve a low-carbon footprint, the Head of State expounded that technology remained a critical component. With collaboration to share these resources among countries, the world will move closer to its goal of reducing the global temperature and mitigating climate change.
"All nations must accelerate change towards low-carbon development pathways…Many of the technological solutions necessary to increase efficiency and productivity and to reduce our environmental and carbon footprint are already available to us. What is required of us is greater political will to share and to upscale the development and use of these technologies," he said.
The President pointed out that the extant coronavirus pandemic has proven that countries could refashion their approach to suit the situation much easier than previously imagined as long as there was political will. He emphasised that now was the time to redefine a common future that would address the existing global challenges in terms of sustainable development. For now, Guyana has pledged to continue along the lines of the Low Carbon Development Strategy, the brainchild of former President Bharrat Jagdeo to reduce climate-related risks.
"Guyana remains committed to its obligation under the Rio Convention and the Paris Agreement [a global framework to mitigate climate change by limiting global warming]. Over the years, we have demonstrated this commitment in our efforts in protecting the environment, conserving biodiversity, tackling climate change and moving the country towards a sustainable development path though our low-carbon development strategy.
Climate justice
Meanwhile, Indian Prime Minister Narendra Modi asserted that climate justice was the way to fight climate change.
"The road to fight climate change is through climate justice. At the root of climate justice is the principle of being large-hearted. Climate justice is also about thinking of the bigger and long-term picture. The sad reality is changes in the environment and natural disasters impact the poorer the most," he outlined.
It was expressed that India's policies and plans are supported by 'concrete action' and powered by public efforts in order to achieve targets from the Paris Agreement.
"We are on track to exceed our commitments and targets on Paris. We are committed to reduce emissions intensity of GDP by 33 per cent to 35 per cent from 2005 levels. You will be happy to know that a drop of 24 per cent of emissions has already been achieved," he disclosed.
Fulfilling SDGs
UN Deputy Secretary General Amina J Mohammed reminded that more than 100 nations committed to net-zero emissions by 2050, with the exception of China (2060 deadline). However, the world is facing challenging times amid the pandemic, and less than a decade remains to achieve the 2030 Sustainable Development Goals.
"This momentum is significant. More than 70 per cent of the world economy and 65 per cent of carbon dioxide emissions are now committed to net zero. But this is not enough. The global coalition for net zero needs to grow to cover the entire G20 countries and more than 90 per cent of the emissions…At the same time, all commitment to net zero must be underpinned by credible plans with intermediate targets to achieving a just transition," Mohammed noted.
G20 – The Group of Twenty – is a collection of twenty of the world's largest economies. The bloc was formed in 1999 to collate the most important industrialised and developing economies for discussions in international economic and financial stability.
She noted that major emitters in the Group must lead the way in keeping with the Paris Agreement. India was lauded for its vast efforts in solar, wind and energy storage, pushing to install 450 gigawatts of renewable energy capacity by 2030. This is expected to bring cleaner air and a reinforced power grid.
"Their combined short-term actions will bend the temperature curve and open enormous room for opportunity that we need to achieve the SDGs. This is a mighty task, and I know that India will do its fair share. India is currently the only G20 country that will overachieve the objective of its nationally determined contribution," the Deputy SG noted.
Mohammed acknowledged that the pandemic has set back global progress on poverty eradication, food security and the other SDGs. Nevertheless, she said countries must seize the advantages which it presents.
"First among these is a chance to relaunch and reshape the global economy. Now is the time to reinforce the environmental imperatives, sustainable economic growths. Now is the time to build a robust and resilient economy that is compatible with our climate goals. Every investment made in the recovery from COVID must be an investment in sustainability," she declared.
The three-day event will address the theme, "Redefining Our Common Future: Safe and Secure Environment for All." (G12)